Meet The Visionary Fashion Designers Capturing The Essence Of Stockholm's Youth – ELLE
Swedish Fashion Council CEO and Creative Director Jennie Rosén and Robin Douglas are on a mission to support emerging designers in the Stockholm fashion scene. Three years after the cancellation of Stockholm Fashion Week (a bid to pursue more sustainable options), this month the SFC unveiled a new, exciting platform. A small cohort of the press was privy to the announcement in the Swedish capital, as they unveiled 'SFC [Fashion X]' with the purpose to shed light on talented Scandinavian visionaries making a sizeable impact across the capital and beyond.
The fashion council began recalibrating in 2018, as Rosén explains, with the aim of magnify the voices of designers capturing the essence the Stockholm fashion scene via sustainable means, while also driving diversity, sparking collaboration and creating long-lasting change. 'SFC's Stockholm [X]perience is the first step in introducing the New Era of Swedish Fashion and strengthening Sweden's position in the international fashion arena,' Rosén told ELLE. 'Sweden has a unique combination of outstanding innovation, a widespread focus on sustainability and creative excellence. By applying all these strengths, Swedish fashion has the opportunity to play a leading role in the future of the fashion industry.' Part of the SFC's transformation includes fostering emerging creatives in their incubator programme.
During the two-day SFC [Fashion X] agenda there was a dinner with Swedish-born trailblazing designer Feben, plus the opportunity to liaise with another brand shaping the face of fashion, Hodakova – established by Swedish School of Textiles graduate Ellen Hodakova Larsson in 2020. When asked what 2023 held in store for the rising brand, Larsson said: 'We are releasing some fun collaborations and will continue to show the development of Hodakova in different manners. Now, I'm all into ceremonial traditions but in general, I'm interested in the human mind in relation to our emotions, and how they work together.'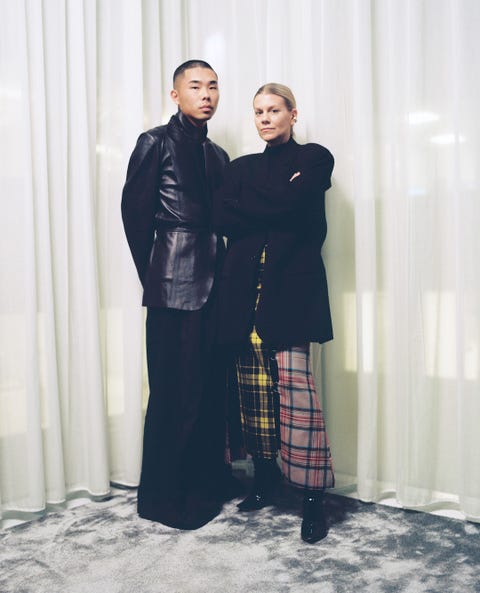 Robin Douglas and Jennie Rosén, creative director and CEO of the Swedish Fashion Council.
Swedish Fashion Council
Larsson also emphasised the importance repurposing garments, as part of protecting the planet from constant newness. 'It's important to see sustainability as a foundation of existing and consuming and not overcomplicating things.'
Designers Jade Cropper and Selam Fessahaye had plenty to offer too. Cropper showcased a head-turning presentation involving models sporting distressed knitwear and denim, while in contrast, Fessahaye treated editors to a thorough tour of her studio of pre-loved gems.
Another pivotal moment came during a discussion of The Fashion Transformation report, where a panel of industry experts discussed the transformation of the industry motivated by the rise of digital fashion, small-scale fashion communities, the urgency of the climate crisis and consumer habits.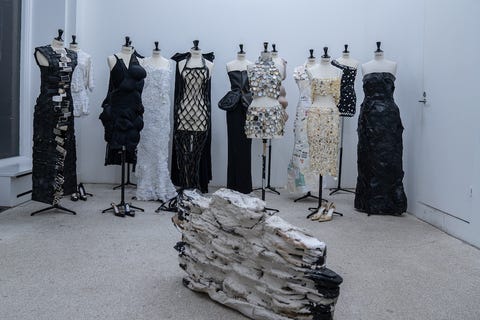 Hodakova presentation.
Vanessa Tryde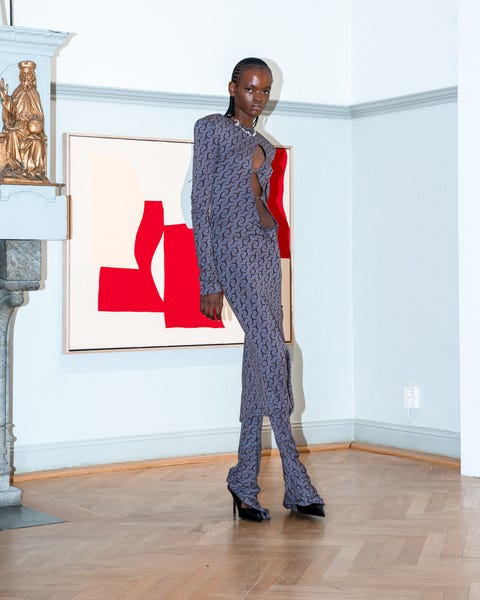 Jade Cropper presentation at Loyal Gallery.
Vanessa Tryde
Later, LVMH semi-finalist brand Rave Review wrapped things up with a bang. The label, founded by Josephine Bergqvist and Livia Schück, has been on a meteoric rise ever since its inception in 2018. The pair who pride themselves on leaning on sustainable practices and have turned Swedish mainstay items (age-old tablecloths, sheets and curtains are their go-tos) into fun garments, while dialling up the glamour for their Midsummer-centric SS23 30-look show. Held in a spacious building based in the city's sustainable district Nacka Strand, accessories were a focal point with models strutting down the runway in waist-length plaited ponytails with ribbons interwoven and stiletto heels with wrap-around detailing and floral embellishments. On the ready-to-wear front, sheer spliced blooming dresses, Y2K-esque denim separates and their signature tartan pieces captivated the audience.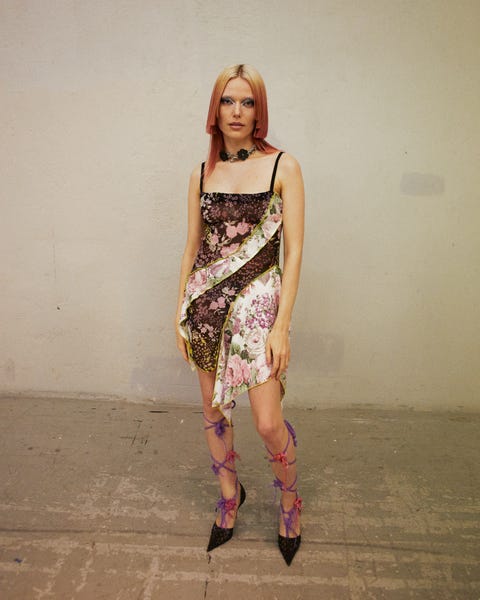 Rave Review SS23
Cornelia Wahlberg
After all was said and done, one thing was clear: the Swedish Fashion Council are helping to shape the big fashion players and visionaries of tomorrow.
Copyright : https://news.google.com/__i/rss/rd/articles/CBMiTWh0dHBzOi8vd3d3LmVsbGUuY29tL3VrL2Zhc2hpb24vdHJlbmRzL2E0MjAyMjY5MS9zd2VkaWgtZmFzaGlvbi1jb3VuY2lsLXNmY3gv0gEA?oc=5