Meghan Markle, Kate Middleton and Princess Diana's Top U.S. Fashion Moments – Newsweek
Members of the British royal family have paid official and recreational visits to the U.S. over many decades, with the focus often trained on what the female royals choose to wear.
In the first week of December, Kate Middleton, now the Princess of Wales, becomes the latest royal to put her best fashion foot forwards as she accompanies Prince William to Boston for the second annual Earthshot Prize awards ceremony.
Here, Newsweek beaks down three key fashion-minded royals' best stateside style choices; from daring Diana in Chicago, to majestic Meghan in New York City and beyond.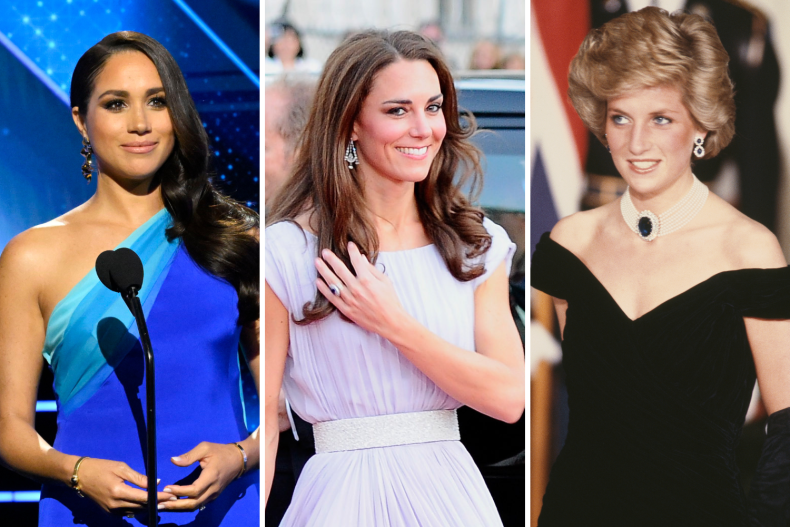 Princess Diana
Princess Diana visited the U.S. on a number of occasions throughout her life as a member of the royal family, both on official tours and for private holidays with her two sons Princes William and Harry.
As her marriage to Prince Charles broke down in the 1990s, the royal's trips to New York and Washington became more frequent, with her style developing over the years from staid royal princess to a modern empowered woman of the new millennium.
Dancing Queen at the White House, November 1985
One of Princess Diana's most enduring fashion moments which is still remembered 25 years after her death at the age of 36 in 1997, is the midnight blue velvet evening gown worn to dance with John Travolta during a visit to the White House in 1985.
The gown was designed for the royal by British couturier Victor Edelstein and was a considerably pared-back gown, set apart from the over-the-top 1980s fashions that earned the princess the nickname "Dynasty-Di".
Diana auctioned the dress which became widely known as the "Travolta Dress" in 1997 to raise money for charity. It sold for $222,500 in 1997 to a private buyer. The dress was sold again in 2019 for $325,317 to Historic Royal Palaces, the charity that operates Kensington Palace where the dress has been displayed.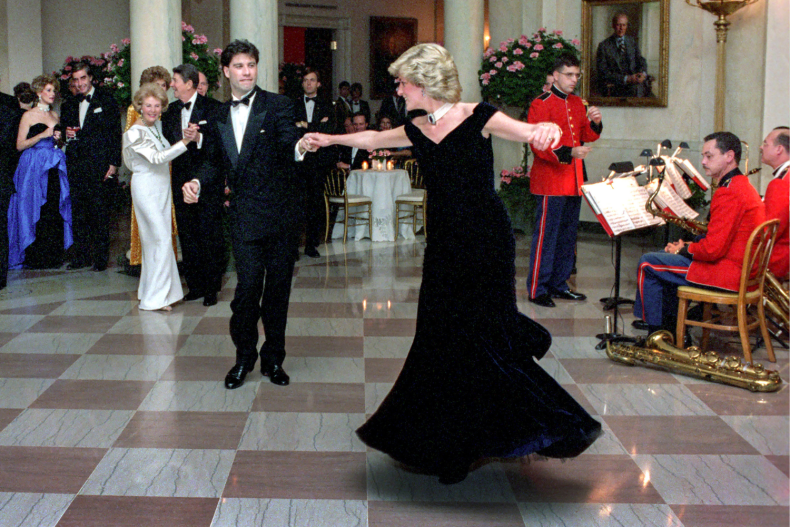 Bold in Versace, Chicago 1996
Following her separation from Prince Charles in 1992, Princess Diana began to experiment with bolder style choices, branching out from exclusively British fashion designers to more international labels such as Chanel, Dior and Versace.
In June 1996, just weeks before her divorce from Charles became official, Diana attended a number of charity events in Chicago. For a gala dinner on June 5, the princess wore a striking royal purple evening gown designed by her friend Gianni Versace.
Both Diana and Versace would die within weeks of one another the following year.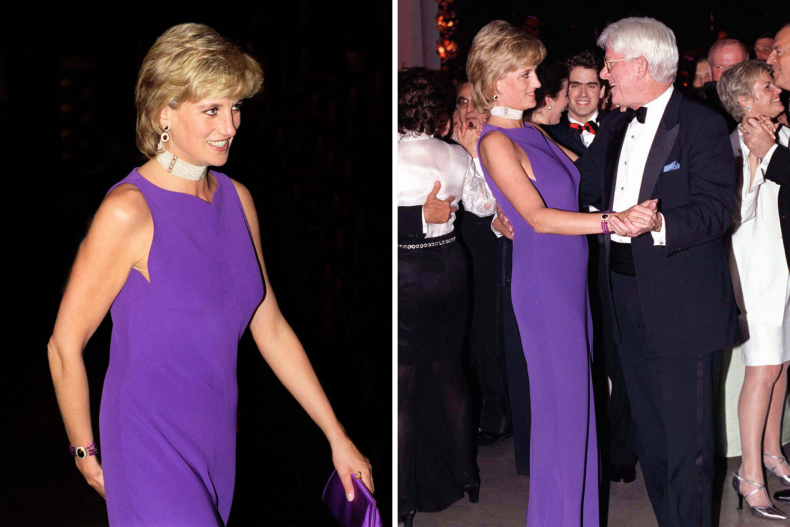 A Memorable Met Gala, New York 1996
In December 1996, Princess Diana made another trip to the U.S. to attend the Met Gala, one of the premiere social functions of the Manhattan elite.
The princess was a guest of Harper's Bazaar editor Liz Tilberis who had befriended and helped the royal during her previous editorship of British Vogue. The gala honored the work of Christian Dior and in tribute to this Diana wore an haute couture John Galliano for Dior blue silk slip dress.
The gown was daringly cut and signified the bold and unapologetic new stage in the princess' life following her divorce.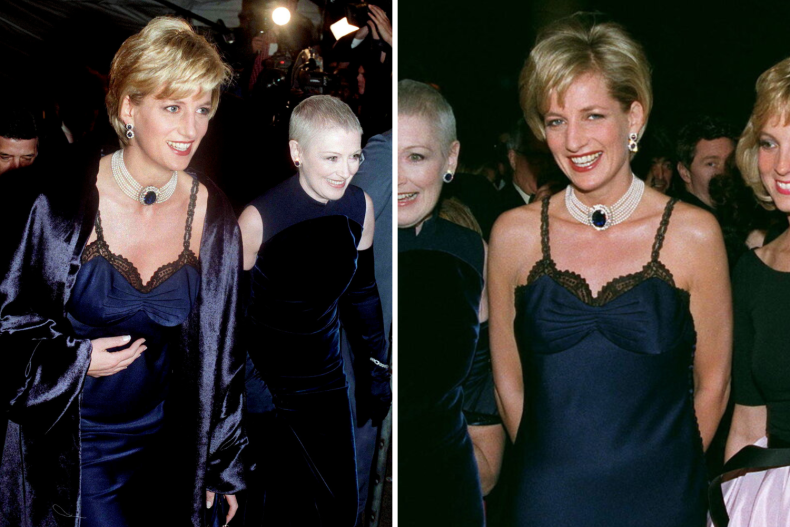 Kate Middleton
Kate Middleton has visited the U.S. only twice in an official capacity, but on both occasions displayed her regal wardrobe to its full advantage following in the footsteps of her formidable mother-in-law.
From Hollywood to New York, Kate's style choices reflected her life at the time of wearing them. In 2022, eight years since her last visit, all eyes are on the royal to see what she wears next.
Hollywood Glamour, California 2011
Following their first official tour of Canada after their marriage, Prince William and Kate Middleton paid a short visit to the United States during which they attended a number of charity events including a BAFTA (British Academy of Film and Television Arts) reception in Los Angeles.
For the event, Kate wore an effortlessly elegant Grecian draped gown designed by the makers of her wedding dress, Sarah Burton for Alexander McQueen.
Kate re-wore the dress in 2021 for the first annual Earthshot Prize awards ceremony in an example of sustainable fashion.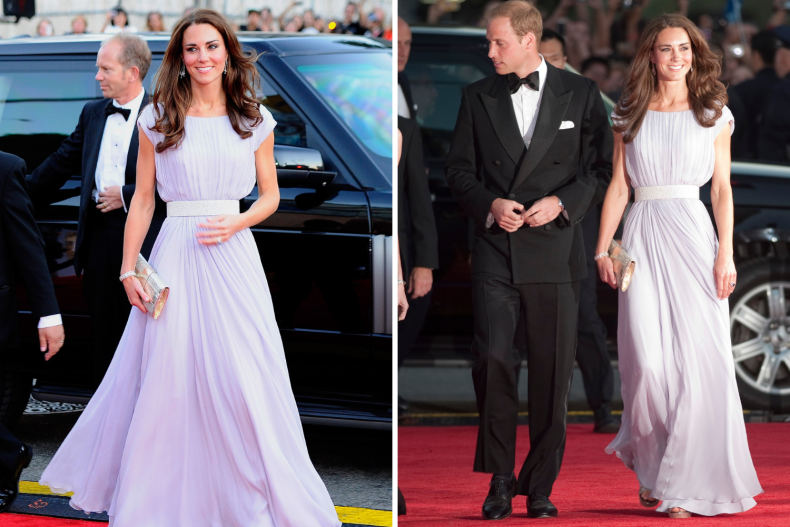 Polo Perfection, California 2011
During their 2011 visit to the U.S. Prince William took part in a polo match at the Santa Barbara Polo and Racquet Club, the club now local to and frequented by Prince Harry.
For the event, Kate wore a classic draped printed silk day dress by the designer Jenny Packham with gold accessories including a gold link charm bracelet gifted to her as a wedding present by the Duchess of Cornwall, now Queen Camilla.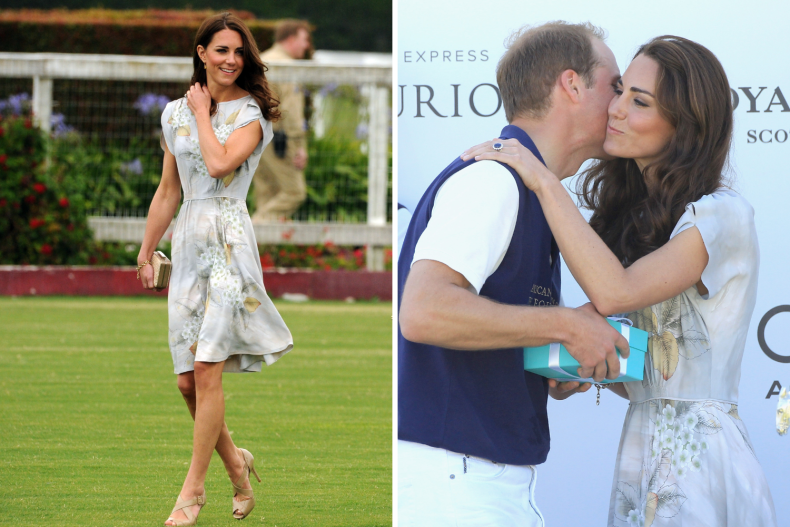 Majestic at The Met, New York 2014
The last time William and Kate visited the U.S. was in 2014 on a three-day visit to New York and Washington.
While in New York the couple attended a charity fundraiser for their alma mater St. Andrews University, hosted at the Metropolitan Museum of Art.
Kate, who was pregnant with Princess Charlotte at the time of the visit, wore a diaphanous blue/green chiffon gown by Jenny Packham with an impressive array of diamond and emerald jewelry.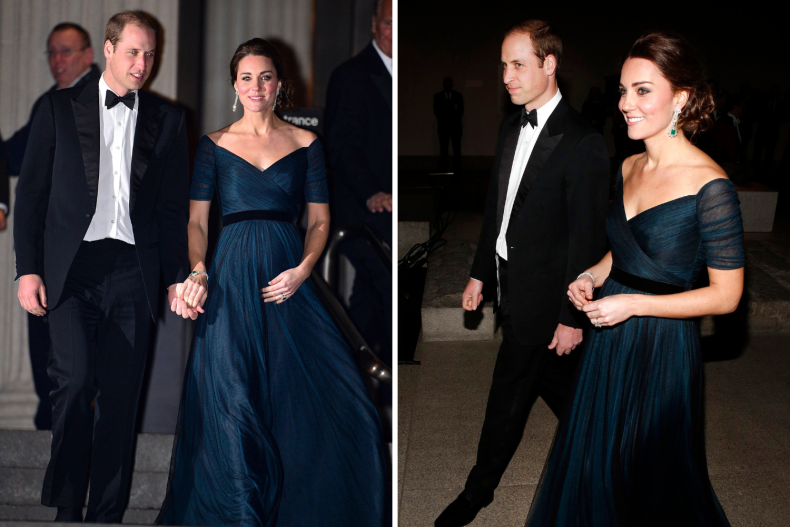 Meghan Markle
As an American, Meghan Markle's style choices excel when stateside from off-duty chic to dramatic ballgown moments. Meghan has transformed her style since marrying Prince Harry in 2018, exhibiting a control over her appearance that she has proudly attributed to herself and not a stylist.
Off-Duty Street Style, New York 2019
In 2019, Meghan made a private visit to New York to attend a baby shower being thrown for her by her U.S.-based friends, including Gayle King and Amal Clooney.
While leaving her hotel during the visit, Meghan appeared looking effortlessly chic in an all-black ensemble, comprising slim leg jeans and a black vintage trapeze line coat from French designer Courrèges. The royal topped off the look with a pair of black sunglasses.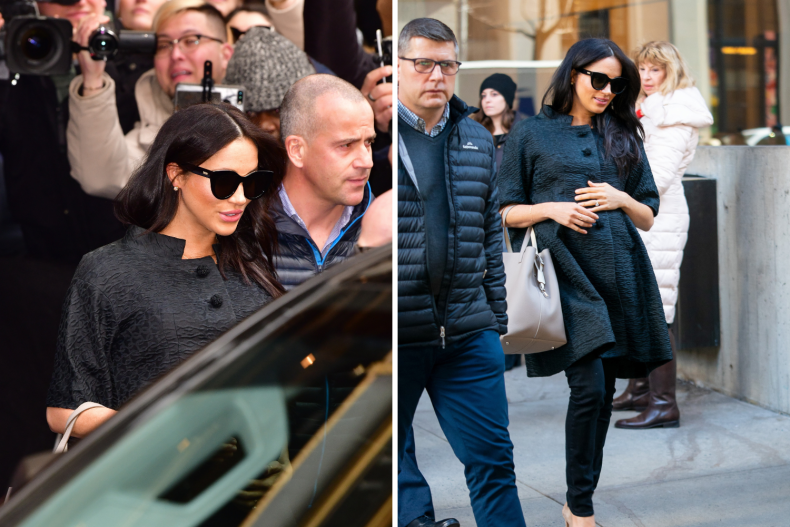 Red for Remembrance, New York 2021
To attend the 2021 Salute to Freedom veterans' event in New York, Meghan wore a symbolic red silk evening gown designed to pay tribute to the red poppy of remembrance by American label Carolina Herrera.
The gown was intricately constructed to resemble a flower and made an impactful image.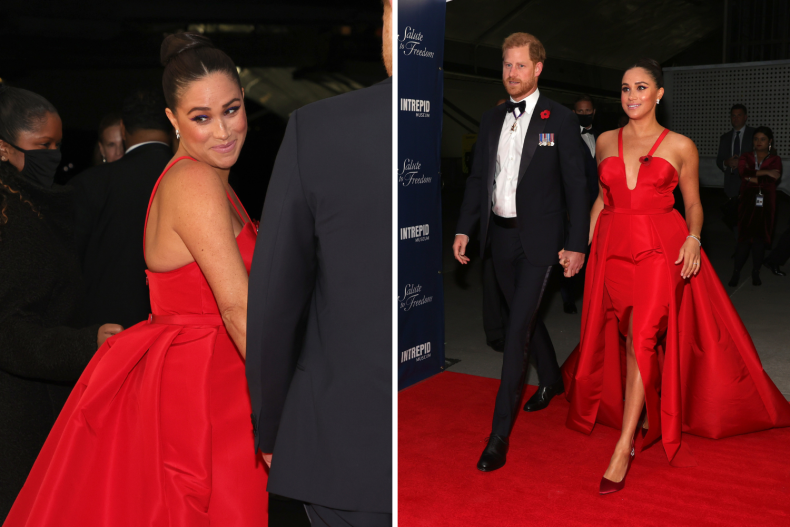 Blue Fantasy, California 2022
For the NAACP Image Awards in California in February, Meghan paid tribute to her mother-in-law Princess Diana through a specially designed evening gown reminiscent of a dress worn by the princess in the 1980s.
Meghan's dress was designed in blue toned chiffon by Christopher John Rogers, a favored designer of Adele and Michelle Obama.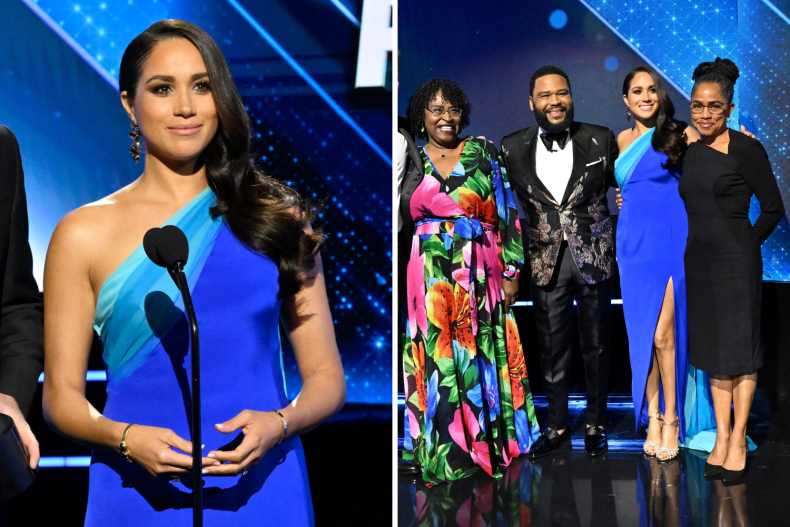 Do you have a question about King Charles III, William and Kate, Meghan and Harry or their family that you would like our experienced royal correspondents to answer? Email royals@newsweek.com. We'd love to hear from you.
Copyright : https://news.google.com/__i/rss/rd/articles/CBMia2h0dHBzOi8vd3d3Lm5ld3N3ZWVrLmNvbS9tZWdoYW4tbWFya2xlLWthdGUtbWlkZGxldG9uLXByaW5jZXNzLWRpYW5hLXRvcC11cy1mYXNoaW9uLW1vbWVudHMtY29tcGFyZS0xNzYxMDM30gFxaHR0cHM6Ly93d3cubmV3c3dlZWsuY29tL21lZ2hhbi1tYXJrbGUta2F0ZS1taWRkbGV0b24tcHJpbmNlc3MtZGlhbmEtdG9wLXVzLWZhc2hpb24tbW9tZW50cy1jb21wYXJlLTE3NjEwMzc_YW1wPTE?oc=5