stephan gladieu documents the fashion of congo's trash crisis in 'homo détritus' – Designboom
'Ndaku, life is beautiful' MOVEMENT
A legion of creatives and artists in Kinshasa, Democratic Republic of Congo has banded together to fashionably address and rise up to the lack of proper recycling and the growing plastic and waste problems of the country that developed (or first-world) countries have chucked in their native land. Photographer and reporter Stephan Gladieu captures the effects and climate-change consequences that the locals experience and consumerism fuels.
The art collective 'Ndaku, life is beautiful', founded by the visual and performance artist Eddy Ekete, spins discarded cell phones, plastic, corks, synthetic foam, inner tubes, fabrics, electric cables, syringes, capsule boxes, car parts, cans, and other trash pieces into full-body suits, armors, and costumes to fashionably advocate the urgency that developing countries undergo when it comes to their mountainous plastic and waste dilemma.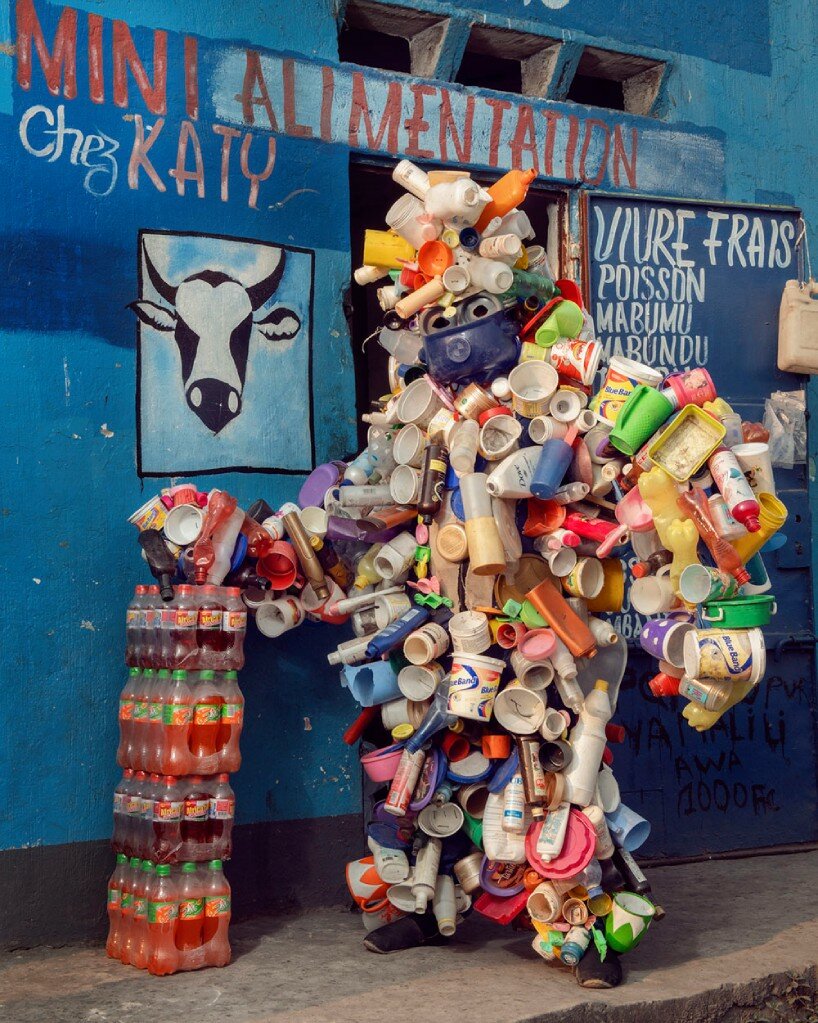 images by Stephan Gladieu
Rubber sandals and slippers form waterfall imagery. Patched razorblades protect the wearer like a knight's armor. Steel and aluminum cans and lids get flattened to be transformed as gauntlets. Old radio and sound players are stacked together to create a robot suit. Thrashed plastic bags dangle and sway as they get sewn together for a flowy dress.
Vinyl records are glued on top of each other before the wearer puts them on and becomes a DJ mascot. The congregated waste might look visually appealing at first glance, but the work creators have invested in designing these works should not brush off the penetrating aftermath of consumerism that heavily affects Kinshasa, among other cities across the world.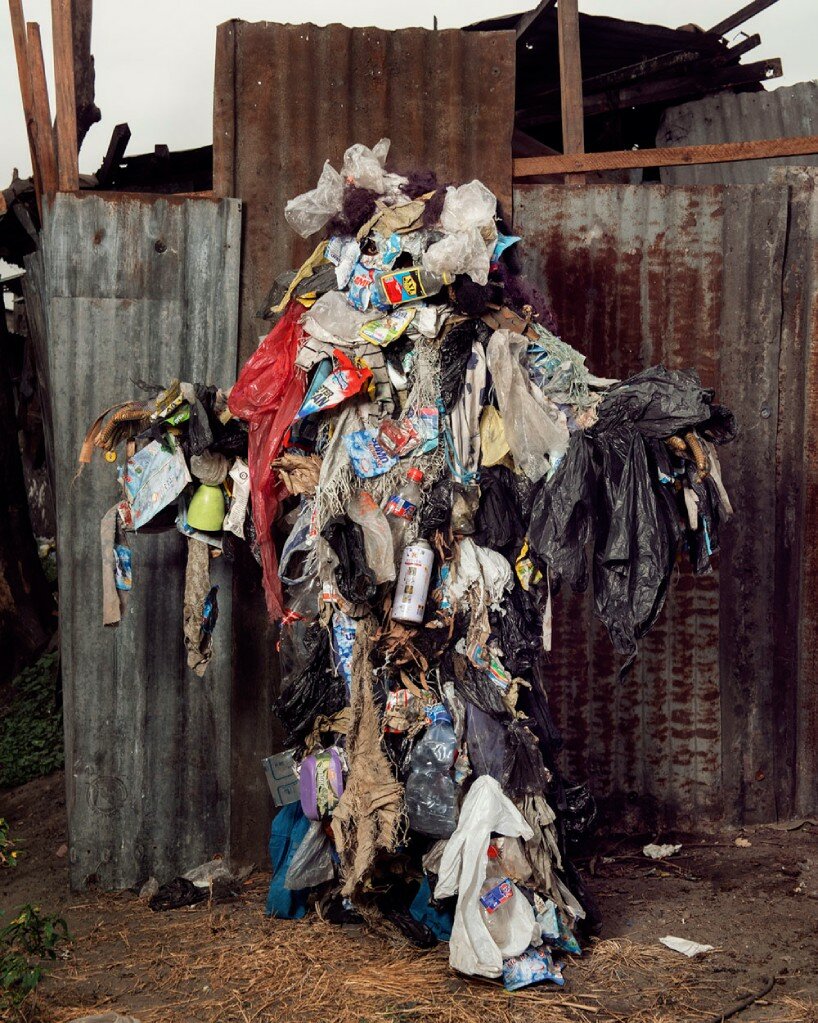 Stephan Gladieu captured the creations
Photographer and reporter Stephan Gladieu has documented the art movement of the Kinshasa creatives in his series Homo Dètritus. He writes that it was Eddy who created the first suit, paving the way for the young artists around him.
'The collective welcomed me for two weeks to carry out this artistic project, which is a continuation of my work. I remained faithful to my photographic bias by choosing to make the portraits in the streets of Kinshasa, with the setting and characters responding to each other. The street is the common history of these artists, and their collective organizes street performances to raise awareness of the authorities and the inhabitants,' he adds.
The result emerges as a documentary that underlines the waste crisis of the country and the immense creativity that the young artists and creatives ooze. The discarded materials they used united the creatives to come up with an inventive way that would let their viewers know about their sentiments and the deprivation they had to go through.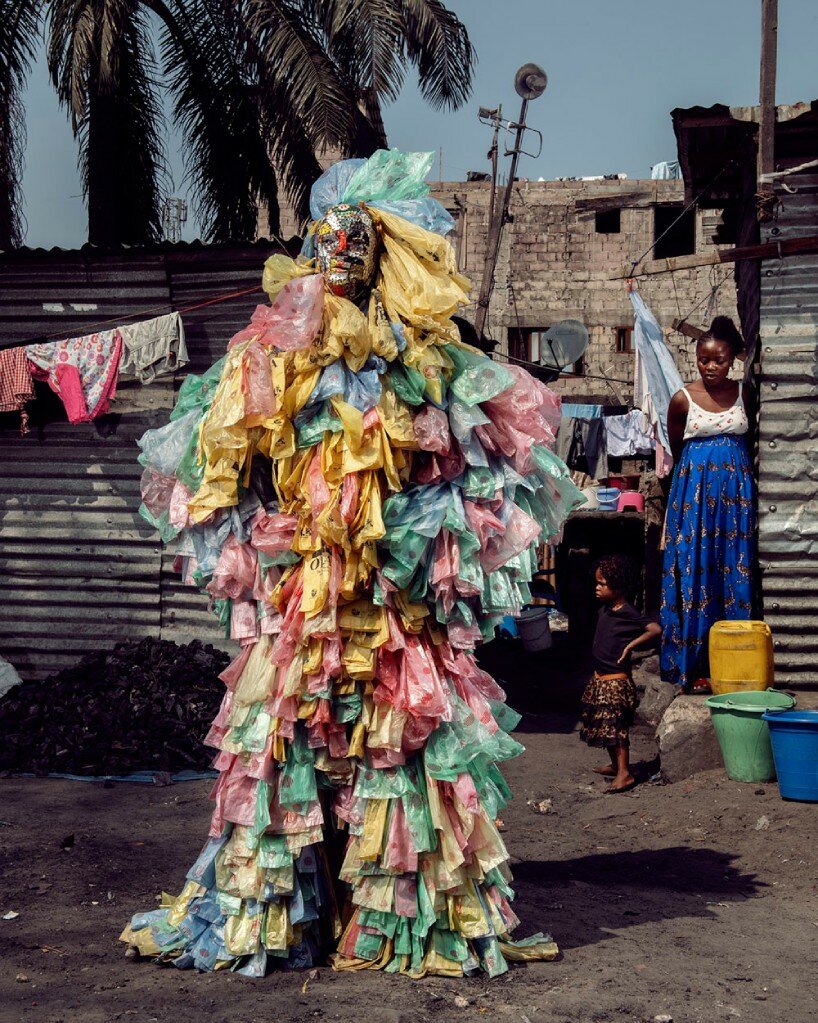 Copyright : https://news.google.com/__i/rss/rd/articles/CBMiTmh0dHBzOi8vd3d3LmRlc2lnbmJvb20uY29tL2FydC9zdGVwaGFuLWdsYWRpZXUtaG9tby1kZXRyaXR1cy1jb25nby0xMi0wNi0yMDIyL9IBAA?oc=5