Crocs, crises and Coperni: How fashion shaped 2022 – The Australian Financial Review
What can fashion tell us about ourselves? For starters: that we love ugly shoes and we'll buy beautiful handbags until the end of time.
It was the year that began with the Miu Miu micro-mini and ended with the Miu Miu ballet flat. Handbag prices skyrocketed and became legitimate investments. Kim Kardashian wore Marilyn Monroe's dress to the Met Gala and broke the internet once more, for reasons she possibly did not foresee. We lost Andre Leon Talley but gained a new understanding of his longtime boss, Anna Wintour. We wore clogs. We dressed up again.
It was 2022, and it was, as ever, a wild year for fashion.
Fashion is always a litmus test for the times, but it rarely tells us one thing alone. Indeed, the story it tells is usually varied and even contradictory: the Miu Miu micro-mini (scandalously short) and ballet flat (demure as a young Princess Diana) exemplify this. It is a story of highs (Estee Lauder purchasing Tom Ford for $US2.8 billion ($4.2 billion)) and lows (Crocs continue to trend), of solar-level personalities (Alessandro Michele, who announced his departure from Gucci in November) and shy and retiring types (Phoebe Philo, whose rumoured eponymous label failed to debut this year as originally thought).
Fashion, in other words, can be extreme. It's kind of the whole point of it.
Deena Bahri is the chief marketing officer at StockX, a resale platform that has access to the data of millions of customers. This means she is in the unique position of truly understanding what customers are looking for, buying and selling. This year, she says, was defined by collaborations, drops … and Crocs – a possible pandemic hangover and one that, with any luck, is on the way out for 2023.
"There is always a standout fashion item of the year," she says. "And this year, we are seeing party shoes make a return, but it's still the year of the clog and the Croc."
A fashion travesty, for sure, but one that is driven, says Bahri, by Crocs' canny collaborations with the likes of Balenciaga, Liberty London and Barneys New York. "People love those unexpected pairings," she says. "It's been a trend for some time, but I don't see it going anywhere. It's a great way of telling stories and really connecting with the consumer."
Other notable collaborations this year were between Gucci and Adidas, Fendi and Versace (Fendace) and Balmain x Barbie.
"Drops", too, have helped boost sales, says Bahri. "Again, it's not exactly new and it's not rocket science, but the idea of 'dropping' a small amount of product for a limited time has seen huge traction this year. Customers want what they can't have."
Like, for example, handbags, particularly from the luxury sector. As The Australian Financial Review Magazine reported in September, Chanel has had an especially robust year when it comes to the sale of handbags. So much so that it is opening a series of private boutiques just for VIP clients. Handbag prices are up across the board, and some Chanel bags cost twice as much as they did before the pandemic.
Other luxury brands are curtailing access to their goods, setting limits on what customers can buy and when. This, naturally, has exponentially increased desire and the resale of these items has grown significantly.
Lyst, a retail data platform, gave the year to Miu Miu, saying searches for the brand increased by 49 per cent this year, powered by its micro-mini skirt and then ballet flat. Other ubiquitous pieces included Prada's Re-Nylon Re-Edition 2000 mini bag and JW Anderson's pigeon clutch, which was given a boost when it appeared in photos from the second season of And Just Like That. Which is all to say that everything Y2K is cool again.
Here in Australia, we spent up a storm and fashion met us where we were. Dior, Cartier, Versace and Valentino opened new flagship stores in Sydney, while Ralph Lauren, Acne and Saint Laurent opened in Melbourne. P.E Nation joined the club with a Sydney boutique, as did New Zealand designer Maggie Marilyn, who opened at The Intersection in Paddington, and Indigenous designer Denni Francisco, who opened her first Ngali store in Melbourne.
For those ready to indulge in luxury fashion but not in the mood to shop, there were exhibitions from Gucci (Gucci Garden: Archetypes) and Louis Vuitton (LVSee), as well as the summer blockbusters Alexander McQueen: Mind, Mythos, Muse, at the National Gallery of Victoria in Melbourne, and Zampatti Powerhouse, at the Powerhouse Ultimo in Sydney.
At home, former Zimmermann designer Lesleigh Jermanus won accolades (and big wholesale accounts) for her label Alemais.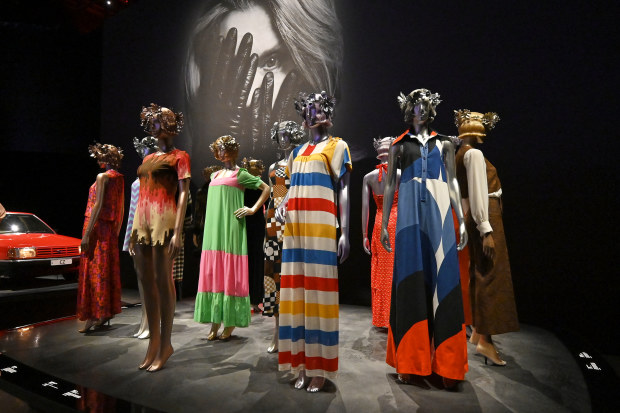 Jermanus took home the emerging designer award at the Australian Fashion Laureate, as well as the National Designer Award at the PayPal Melbourne Fashion Festival. Expect to see a whole lot more next year of Alemais, now stocked at Net-A-Porter, MyTheresa, Liberty, Incu and Goop, and opening Australian Fashion Week in May.
And speaking of fashion week, from Paris to the Powerhouse (where designer Jordan Gogos showed in May), runway shows were back in force. In Sydney, the Fashion Council unveiled its Australian Fashion Trademark at fashion week, and globally it was a return to form for every event. Even the death of Queen Elizabeth II in September could not (entirely) derail London Fashion Week, though that most British of brands, Burberry, delayed its show until after the monarch's funeral as a mark of respect.
Daniel Roseberry at Schiaparelli opened Haute Couture Week in Paris in January, Louis Vuitton showed its cruise collection in a post-apocalyptic San Diego setting in May, while the now-beleaguered Balenciaga – facing significant scandal after a campaign in November that appeared to glorify child abuse – showed at the New York Stock Exchange the same month. Zimmermann made its debut at Paris Fashion Week in October, a major coup for the Australian design duo.
But the most memorable moment of the year was surely the model Bella Hadid being sprayed with a special type of fabric at the Coperni show in Paris in September. There were echoes of Alexander McQueen's spring 1999 show, in which model Shalom Harlow rotated balletically on the runway as robots spray-painted her dress, but it was also entirely original. A seamstress cutting the dress on the bias at the end? Genius. It will live, as the kids say, rent-free in my mind forever.
Fashion is known for its outsize personalities, and this year we lost some of the greatest. In January, legendary Vogue editor-at-large Andre Leon Talley died; five days later, so did French designer Thierry Mugler. In August, we lost Japanese designer Issey Miyake.
Creative directors came and went, too. Raf Simons announced he was leaving his own label, while Alessandro Michele left Gucci and Daniel Lee swapped Bottega Veneta for Burberry. Meanwhile, Phoebe Philo's much-anticipated new brand failed to appear, and Louis Vuitton still has not named a replacement for designer Virgil Abloh, who died in 2021.
At Balenciaga, Demna (who dropped his surname, Gvaslia, this year) may be on thin ice. The child abuse scandal comes after he released a "trash bag" for $US1790 and a pair of $US1850 sneakers that looked as if they had been walked through mud.
And in May, journalist Amy Odell released Anna, a biography of US Vogue editor-in-chief Anna Wintour that positioned the magazine empire-builder as the businessperson she really is.
As for colours, the year was dominated by two: teal, as in the wave of Independents who entered the Australian parliament, also ushering in a new era of fashion (Dai Le, the member for Fowler, wore a traditional Vietnamese áo dài dress, with the Australian flag printed over it); and pink, as in Valentino's now-patented PP colour, which had its "cerulean blue" moment and has been much copied since it debuted on the runway at the end of 2021. Expect to see more of it next year.
Expect, too, to see more virtual clothing. This year, Facebook debuted a clothing boutique for your avatar, with brands like Thom Browne and Prada offering items for sale. Too many brands to count launched NFTs – Dion Lee, Gucci and Tiffany & Co. among them. And as this universe of virtual clothing and currency becomes ever more pervasive, the landscape has become more complicated – just ask Hermès, which sued the artist Rothschild for copyright infringement in January, after the artist released NFTs of the Hermès Birkin. The case is ongoing.
Crazy? Maybe. But that, as ever, is fashion.
Introducing your
Newsfeed
Follow the topics, people and companies that matter to you.
Read More

Lauren SamsFashion editorLauren Sams is the fashion editor, based in Sydney. She writes about lifestyle including
Copyright : https://news.google.com/__i/rss/rd/articles/CBMidmh0dHBzOi8vd3d3LmFmci5jb20vbGlmZS1hbmQtbHV4dXJ5L2Zhc2hpb24tYW5kLXN0eWxlL2Nyb2NzLWNyaXNlcy1hbmQtY29wZXJuaS1ob3ctZmFzaGlvbi1zaGFwZWQtMjAyMi0yMDIyMTIwNS1wNWMzcWXSAQA?oc=5