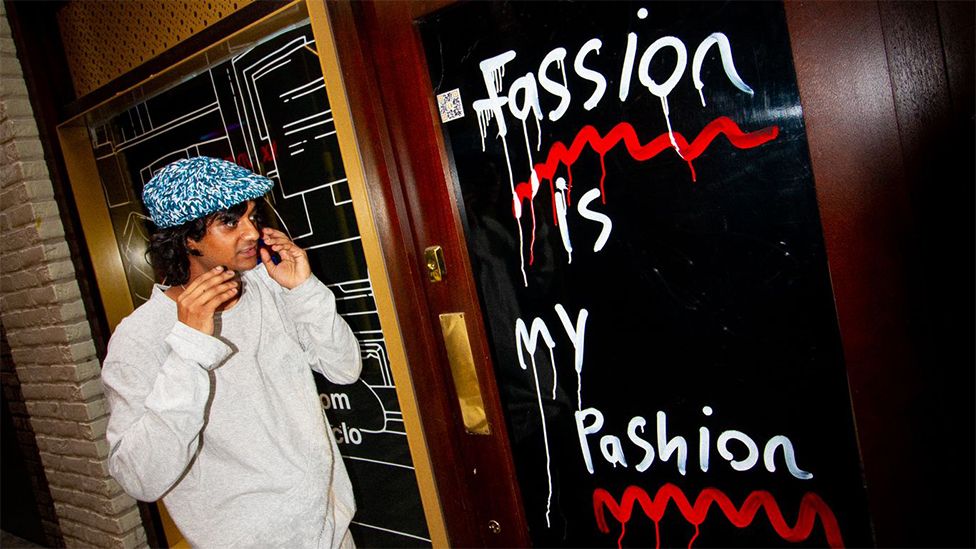 By Kaya Aftab
Newsbeat reporter
"I just felt alienated. Other kids were always moving up, and I was stuck writing the same lines over and over again."
Street artist Navinder Nangla has been making waves in the fashion world with his work spanning fashion hubs London, Paris and Seoul.
Though he might now have been picked up by the likes of Gucci and Converse, the road to recognition hasn't been easy – due to his struggles with dyslexia.
The 27-year-old, known as Nav, spent many years of his childhood with undiagnosed dyslexia and he feels this held him back at school.
"I just thought it was pretty embarrassing," he says, as he recalls going to school and having to sit with a staff member in class.
"I felt like I wasn't allowed to do school properly."
Being from a South Asian background, Nav believes the delay in his diagnosis was due to the stigma surrounding learning difficulties in his community.
"Brown parents wouldn't like to admit that their child has dyslexia, so they wouldn't even get them tested."
It wasn't until Nav, from Northamptonshire, started secondary school that he was encouraged to do a dyslexia test by a teacher, where he was diagnosed.
The NHS describes dyslexia as a common learning difficulty that mainly causes problems with reading, writing and spelling. It's estimated that up to one in every 10 people in the UK has some degree of dyslexia.
Nav says he turned his vulnerability into power and started expressing himself through art as a child.
"Growing up, we didn't have a lot. We were always taught to make something out of nothing.
"My brother and I had to be creative to make things work. I used chalk and spray paint to make football goals. We would use mango cartons as the wickets for cricket."
'Fassion is my pashion'
Nav describes art as a form of expression and believes there are no limitations, choosing to channel his dyslexia into his work.
"I was just making art, not really getting anywhere, no money or anything like that."
If you've been around Soho in London, you may recognise his work, with Nav leaving his mark through his street art tags.
But his most notable work went global during Paris Fashion Week earlier this year.
He left art stamps which read "Fassion is my Pashion" and "Fassion weak", which quickly gained attention from influencers and celebrities such as actress Lily Collins and fashion figure Michèle Lamy.
Nav's success in Paris led him to be part of Converse's Create Next, which showcases 20 emerging creative talents, and he was invited to South Korea as part of the campaign.
Most recently, Gucci recognised his "rebellious talent" and featured Nav in a collaborative campaign with contemporary streetwear brand, Hypebeast.
"I can't believe it," he says, adding it all seems like a distant dream.
People have now even started getting tattoos of his signature piece, he says.
"It's crazy where the art is going. I stamped the streets, and now people are stamping their skin with my art."
Doing what you love
As for future goals Nav believes that this is only just the start.
He wants to continue embracing his dyslexia in his work, saying he "used to try and hide it but now I'm like, this is me".
One day he wishes to open up creative workshops for children with similar struggles to his and to see his work in the biggest art galleries.
And providing a better life for his family is high on the priority list, he says, adding he "really wants to get my mum out of working at McDonalds".
Ultimately, though, he says it's not about the money or brands, but all about being able to do what you love.
"The best form of currency is happiness and doing something that you love and being free.
"That's what art does, it lets you be free," he adds.
Copyright : https://news.google.com/__i/rss/rd/articles/CBMiKmh0dHBzOi8vd3d3LmJiYy5jb20vbmV3cy9uZXdzYmVhdC02NDAyODA4MtIBLmh0dHBzOi8vd3d3LmJiYy5jb20vbmV3cy9uZXdzYmVhdC02NDAyODA4Mi5hbXA?oc=5