Kate Middleton's Most Important Year in Fashion as She Turns Forty-One – Newsweek
In her 11 years as a member of the royal family, Kate Middleton has carefully honed an image as a modern-day princess which has been both praised and copied, contributing to what has been termed the "Kate effect."
The "Kate effect" is essentially the economic influence that the royal yields, whether consciously or unconsciously, and which in recent years has been estimated to give a £1 billion ($1.2 billion) annual boost to the U.K. fashion industry.
Though she has always been praised for what she wears, the spotlight on Kate's fashion choices has been as intense as ever over the past year as she turned 40 and strengthened her position in the monarchy and the country throughout historic events and a change in reign.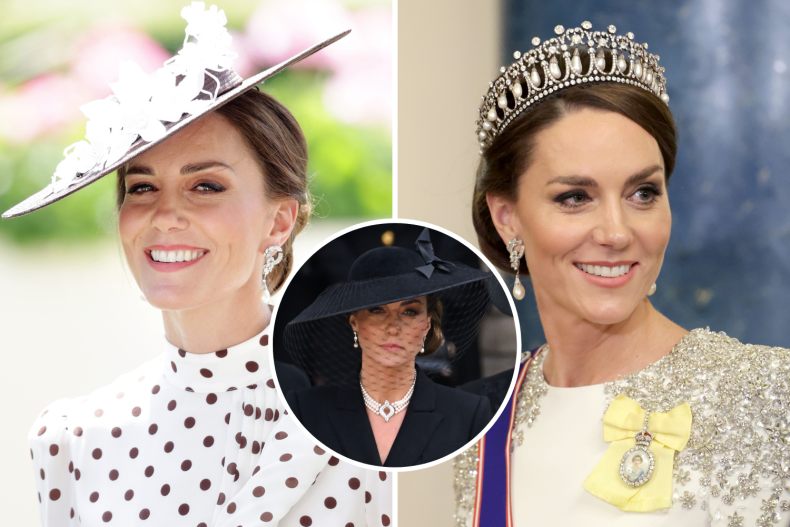 In September 2022, following the death of Queen Elizabeth II, the new King Charles III announced that he had made his son, Prince William, the new Prince of Wales. This meant Kate was the new Princess of Wales, the first member of the royal family to use the title since the death of Princess Diana in 1997.
As she celebrates her 41st birthday on January 9 with a new title, a new role and even greater aesthetic demands, Newsweek looks at how the last year has been Kate Middleton's most important fashion-wise to date.
Official 40th Birthday Portraits
Kate Middleton entered her forties with a statement photoshoot which signified a new aesthetic era for the royal, embracing the deep and historic symbolism attached to clothing when associated with the monarchy.
Of the portraits, taken by fashion photographer Paolo Roversi, one key image shows the royal in the historic style associated with past queens of England, wearing an Alexander McQueen gown similar to a dress worn by Princess, later Queen, Alexandra in an 1860s portrait by Winterhalter.
The photographic style itself was likened to that of society photographer Cecil Beaton who took Queen Elizabeth II's coronation portraits.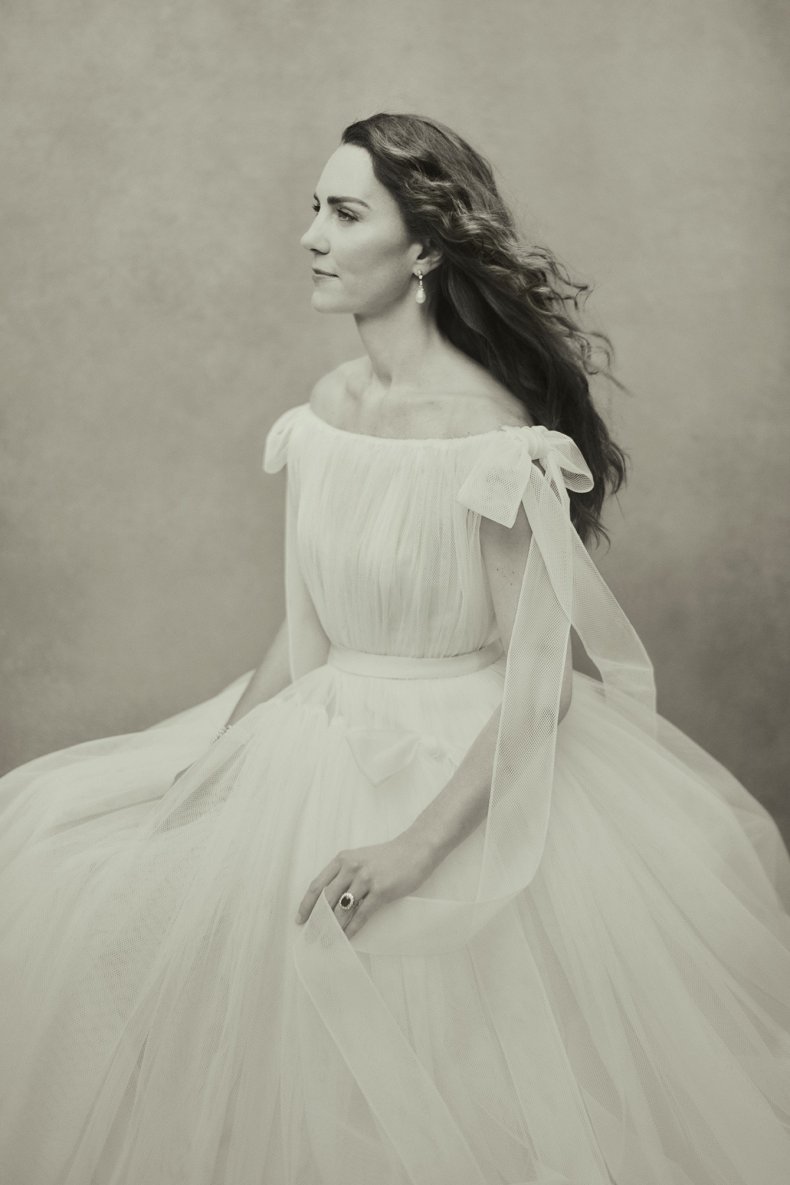 Royal Tour of the Caribbean, Jamaican Reception
One of the most important and demanding royal engagements undertaken by Kate over the past year was her week-long tour of the Caribbean with Prince William in March.
Faced with a series of protests and wider discussions about the British royal family's links with the historic slave trade and recent allegations of racism, the prince and princess maintained their busy schedule of meetings and engagements, including glittering evening receptions at each of their stops in Belize, Jamaica and the Bahamas.
While in Jamaica, Kate paid tribute to the nation's flag by wearing a voluminous green Jenny Packham evening gown in a silhouette favored by Queen Elizabeth II in the 1950s, with the queen's yellow gold and emerald jewels loaned to her for the occasion.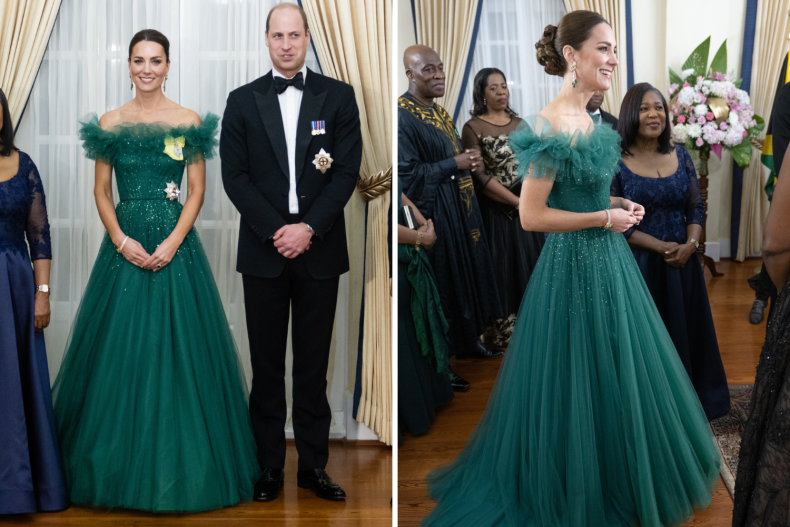 Prince Philip Memorial Service
Following her newly established taste for vintage-inspired silhouettes, for the memorial service dedicated to Prince Philip who died in April 2021, Kate wore a 1980s-style black and white polka dot dress by the designer Alessandra Rich.
Paired with the Rich dress, the royal wore a large wide-brimmed black hat and heritage pearl and diamond earrings.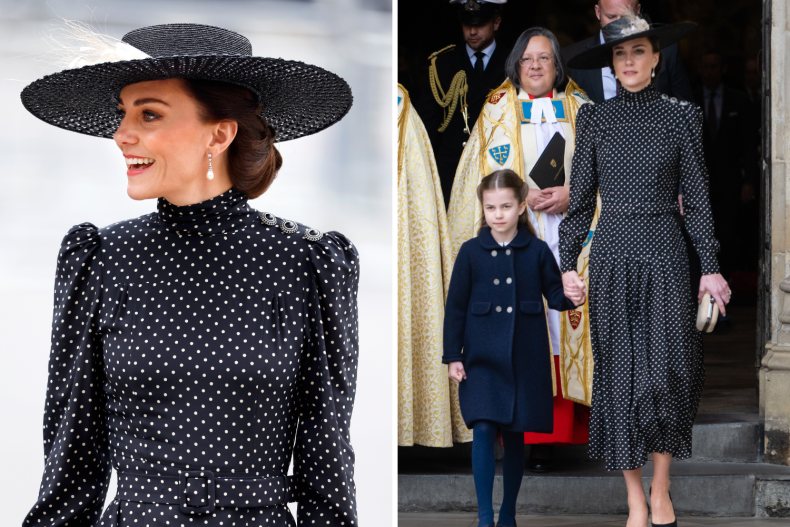 Royal Easter Sunday Service
As Queen Elizabeth II's health began to rapidly deteriorate throughout 2022, members of her family stepped in to take on more senior and center-stage roles. For Prince William, Kate Middleton and their children this meant leading the royal family to the traditional Easter Sunday service at St. George's Chapel, Windsor, in April.
For this occasion, Kate re-wore a trusted blue coat dress made by one of her most trusted designers, Emilia Wickstead. The royal updated the five-year-old wardrobe staple with a fashionable bandeau pleated hat.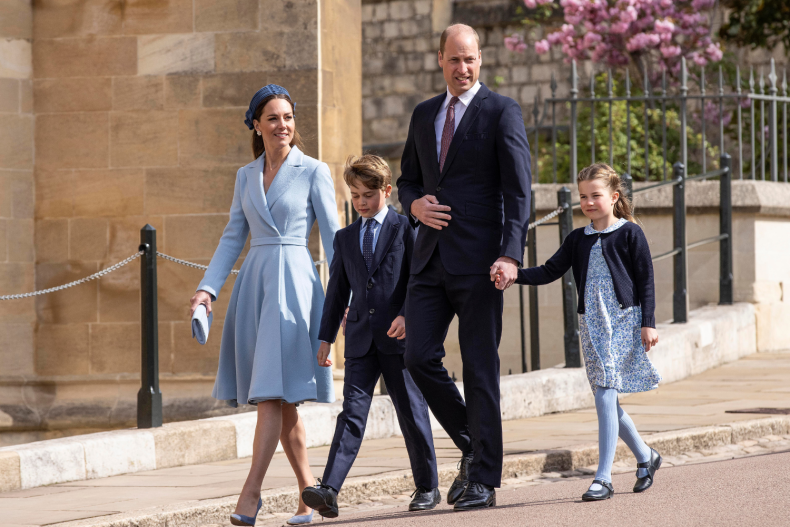 Platinum Jubilee Trooping the Colour
The British monarchy celebrated its first ever Platinum Jubilee in June to mark Queen Elizabeth II's 70th year on the throne.
Though the 96-year-old queen did not attend most of the festivities due to her declining health, members of her family put their best fashion foot forward to add to the pomp and pageantry of the occasion, including Meghan Markle and Kate.
For the Trooping the Colour carriage ride and balcony appearance on June 2, Kate wore an elegant white coat dress with wide-brimmed picture hat in a style closely associated with Princess Diana. The royal also wore diamond and sapphire jewels which had formerly belonged to her mother-in-law.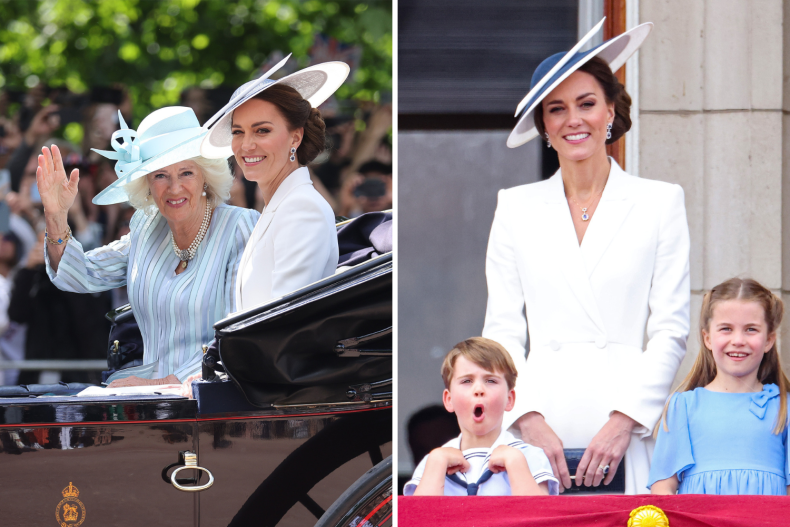 Official Portrait as Duchess of Cambridge
Another first for Kate came in 2022 with the unveiling of a joint painted portrait of herself and Prince William at the Fitzwilliam Museum in Cambridge.
The portrait was painted by artist Jamie Coreth and was commissioned to commemorate William and Kate's time as Duke and Duchess of Cambridge—a title that would soon be superseded when they were made Prince and Princess of Wales three months later.
In the portrait, Kate wears a glittering green evening dress by indie brand The Vampire's Wife with a pair of Manolo Blahnik heels. Pinned to her chest, representing the historic lineage of the royal family, Kate wore the 19th century Duchess of Cambridge pearl brooch loaned to her by the queen.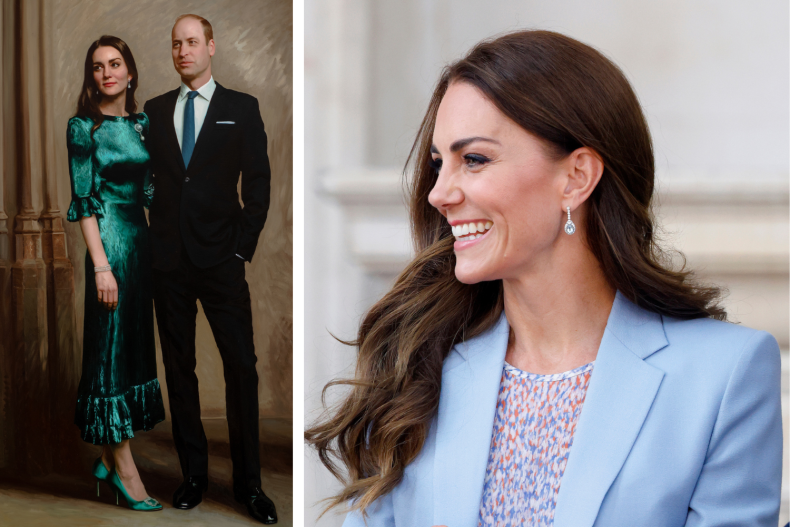 Royal Ascot
Another instance where William and Kate were required to step onto center stage and represent the queen due to her increased mobility issues was during Royal Ascot week.
This horseracing event was a highlight of Queen Elizabeth's calendar and each year, members of the royal family take part in a carriage procession down the racecourse for a special week of races.
On one of these days, William and Kate led the invited guests as the most senior royals in attendance for the first time. For this, Kate wore another Alessandra Rich design of cream silk with brown spots and chocolate brown velvet accessories.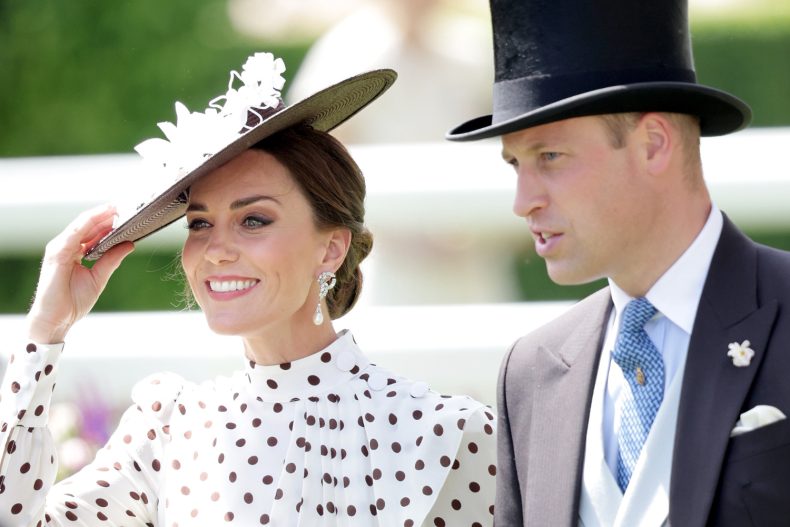 State Funeral of Queen Elizabeth II
Perhaps the most life-altering event to have taken place in the past year for Kate Middleton was the death of Queen Elizabeth II on September 8.
Not only did this signify the loss of a beloved family matriarch, but also meant that she and her husband, and her eldest son, moved one step closer to the throne.
As the new Princess of Wales, Kate led the royal women in dressing stylishly and somberly throughout the official mourning period in a range of elegant black coat dresses with historic jewels associated with the late monarch.
To the state funeral of the queen, Kate wore a black coat dress with flared skirt and a statement black picture hat adorned with a sweep of black veil that framed her face in photographs.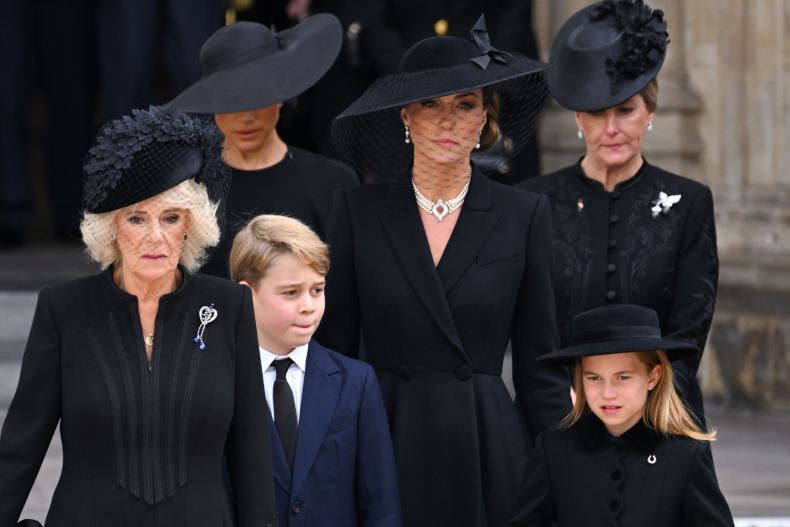 First Welsh Visit as Princess of Wales
For her first visit to Wales as the country's new princess, Kate took a leaf out of Queen Elizabeth II's style playbook by wearing a bright colored coat, while adding a tribute to the Welsh flag by choosing the color red.
The princess wore the coat over an all-black outfit with black accessories, out of respect for the queen whose death had occurred less than a month before the visit.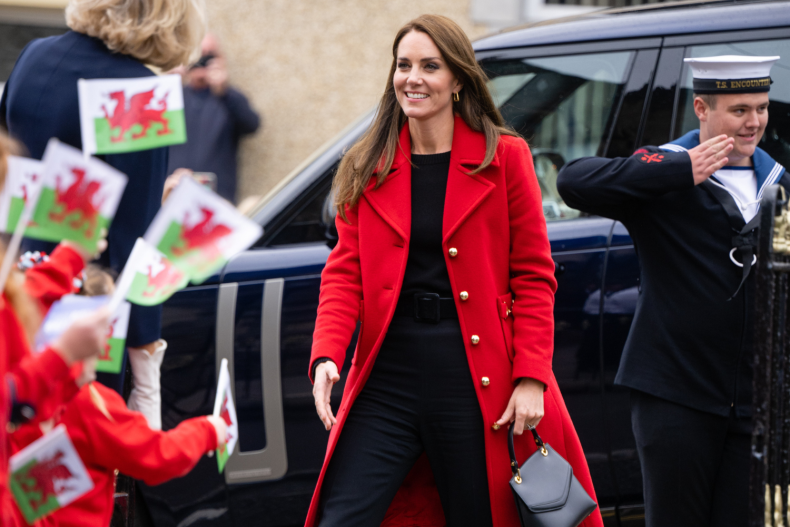 State Banquet
For King Charles III's first state banquet as monarch—hosting South Africa's President Cyril Ramaphosa at Buckingham Palace—Kate relied on a touch of vintage royal glamour when dressing for the occasion.
The princess appeared at the palace wearing a fairytale gown by designer Jenny Packham, appropriately named the Elspeth dress.
Kate accessorized the gown with Queen Mary's Lover's Knot Tiara that had become synonymous with Princess Diana in the 1980s after Elizabeth II presented it to her as a wedding present.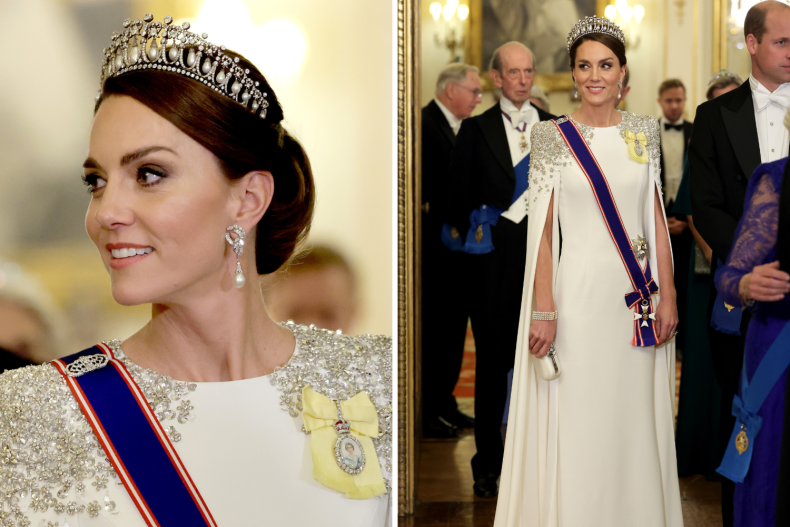 Earthshot Prize in Boston
One of Kate's most statement looks of the past year was her appearance at the 2022 Earthshot Prize awards ceremony in Boston wearing a rented Solace London maxi dress in neon green.
The rented nature of the gown fit with the eco-conscious ethos of the evening's event while its striking color, accessorized with Princess Diana's emerald choker necklace, ensured the princess stood out on the "green carpet."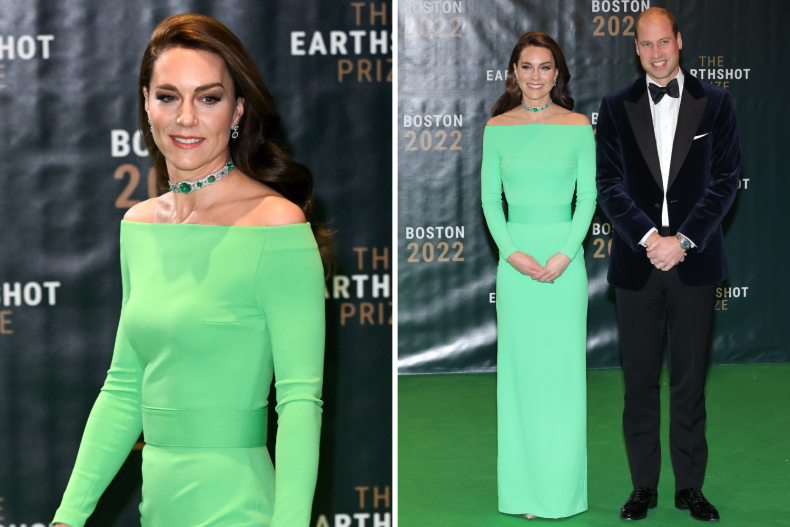 "Together at Christmas"
One of Kate's most important engagements took place at the end of last year in December where she spearheaded, for the second year, a charity carol service at London's Westminster Abbey.
The event took place on the day that Prince Harry and Meghan Markle released the second instalment of their Netflix docuseries which made a number of bombshell accusations against members of the royal family.
For the carol service, which was attended by nearly all senior U.K.-based members of the royal family, Kate and others including Pippa Middleton, Zara Tindall and Princess Charlotte all presented a united front wearing matching burgundy coats.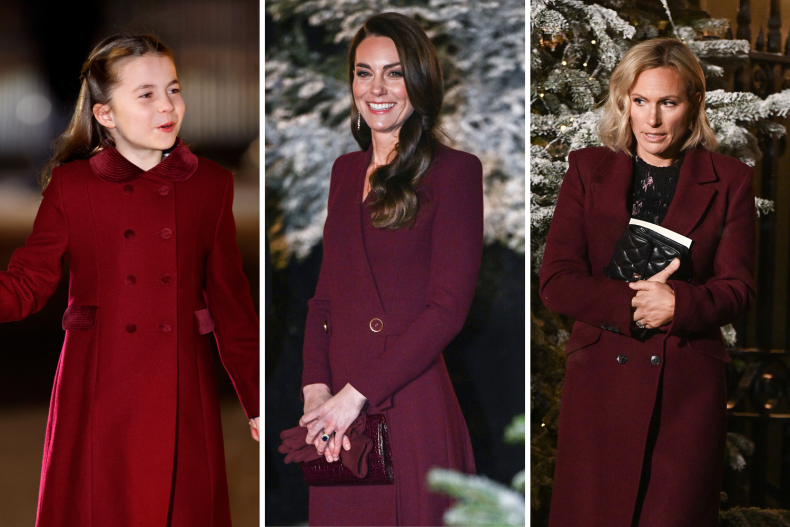 James Crawford-Smith is Newsweek's royal reporter based in London. You can find him on Twitter at @jrcrawfordsmith and read his stories on Newsweek's The Royals Facebook page.
Do you have a question about King Charles III, William and Kate, Meghan and Harry or their family that you would like our experienced royal correspondents to answer? Email royals@newsweek.com. We'd love to hear from you.
Copyright : https://news.google.com/__i/rss/rd/articles/CBMiT2h0dHBzOi8vd3d3Lm5ld3N3ZWVrLmNvbS9rYXRlLW1pZGRsZXRvbi1pbXBvcnRhbnQtZmFzaGlvbi15ZWFyLWJpcnRoZGF5LTE3NzExNjPSAVVodHRwczovL3d3dy5uZXdzd2Vlay5jb20va2F0ZS1taWRkbGV0b24taW1wb3J0YW50LWZhc2hpb24teWVhci1iaXJ0aGRheS0xNzcxMTYzP2FtcD0x?oc=5