By Honorary Reporters Claudya Agatha Mande and As Suci from Indonesia
Photos = Embran Nawawi
The annual show East Java Fashion Harmony last month was held at Bromo Tengger Semeru National Park in East Java, Indonesia. Korea's Gyeongsangnam-do Province collaborated with East Java as sister provinces to create three batik (traditional Indonesian fabric) outfits with Jinju silk provided by the Jinju Culture and Tourism Foundation of Jinju, Gyeongsangnam-do. 
In an interview via social media on Jan. 3, fashion designer Embran Nawawi creating works inspired by the traditional clothing of Korea and Indonesia.
Briefly introduce yourself.
I am Embran Nawawi, a designer and lecturer of courses on textiles and fashion promotion and entrepreneurship at Petra Christian University and Widya Mandala Catholic University, both in Surabaya, East Java. I have designed clothing using the batik patterns of East Java for 15 years. I am also a fashion event creator for the East Java office of the Ministry of Tourism and Creative Economy.
Why did you collaborate with Korea in last year's show?
I was invited to think of a collaborative concept related to East Java's sister provinces. While looking for something to match the show's theme "Wisdom to Majestic," I found that traditional Hanbok was still part of modern fashion in Korea. This led to my idea to use batik designs in certain parts of Hanbok.
I was also invited to use silk from Jinju, which is what Hanbok is usually made from. It was a challenge at first to get familiarized with the silk's characteristics and adapt the batik-making process for the fabric. The technical difficulties included how wax strongly binds to Jinju silk and how the strong absorption of color to make the volume of dye needed is highly unpredictable.
Nonetheless, the silk I got from Jinju exceeded my expectations. I hope to use Jinju silk again to make classic batik from other cities such as Tulungagung and Tuban.
Describe the three outfits you designed.
The three were inspired by the couture and shape of Hanbok, especially the high-waist element that I translated into the palazzo jumpsuit pants and transparent Korean outer. In another piece I made a simple dress inspired by the shape of Hanbok skirts and paired it with a unique transparent kimono. Finally, I combined the style of men's Hanbok with that of Indonesia by including the batik pattern of Kembang Suro, which symbolizes sincerity and offering, in addition to Kawung symbolizing eternity and Liris representing diversity. These patterns were used with the Korean designs of the phoenix and lotus flower, which had similar meanings.
Why did you combine Jinju silk with a Probolinggo batik?
Probolinggo was an influential trade hub during Indonesia's Majapahit empire and where one of the country's oldest batik patterns originated like Kembang Suro. To combine my country's best batik with Korea's best silk through the hands of Batik Poerwa maestros was an extraordinary experience.
Because traditional clothing remains relevant in modern Korean fashion, I believe that this kind of cultural collaboration can create a lasting fashion wave worldwide. I look forward to my next collaboration with Korean fashion.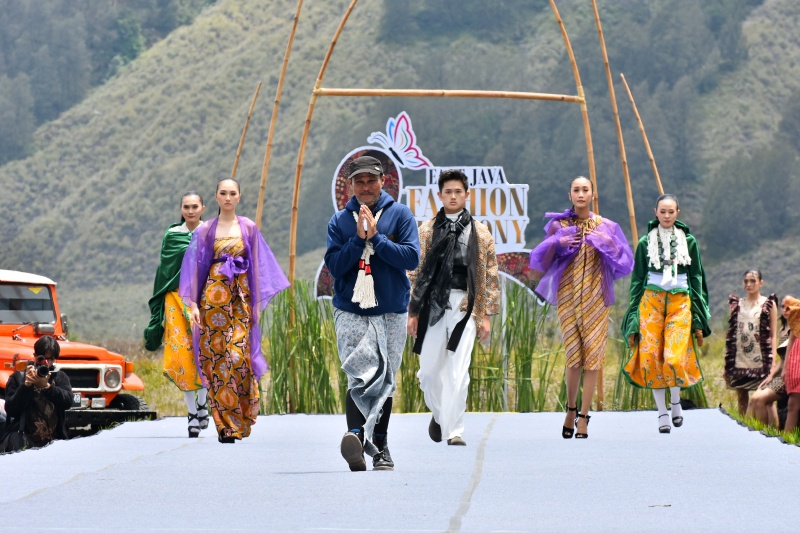 kalhong617@korea.kr
*This article is written by a Korea.net Honorary Reporter. Our group of Honorary Reporters are from all around the world, and they share with Korea.net their love and passion for all things Korean.
Copyright : https://news.google.com/__i/rss/rd/articles/CBMiU2h0dHBzOi8vd3d3LmtvcmVhLm5ldC9OZXdzRm9jdXMvSG9ub3JhcnlSZXBvcnRlcnMvdmlldz9hcnRpY2xlSWQ9MjI3MTgwJnBhZ2VJbmRleD0x0gEA?oc=5