Celtic cool or Scots cosplay? Alan Cumming's strong looks on US Traitors assessed – The Guardian
'I'm like a less butch Agatha Christie in a fabulous outfit," declares Alan Cumming in an early episode of the TV show The Traitors US. The outfit in question? A navy and green tartan suit teamed with a neon green knitted tie and a gold and green sparkly brooch.
The show, which originally launched late last year in the UK, was fronted by Claudia Winkleman and became an instant success, being streamed more than 28m times on BBC iPlayer. This week saw the release of a US version on BBC Three. Spread over 10 episodes, there are two big changes to the format. The first: the arrival of the dapperly dressed Cumming as host. The second: contestants who hail from a reality TV background, selected from shows including The Real Housewives of Beverly Hills.
In a 19th-century castle in Alness, north of Inverness, Cumming wears a different tartan suit for each episode, spanning every section of the colour wheel. There are crimson reds, azure blues and mossy greens. High-shine brogues, smoking slippers, jaunty socks, zingy hued knitted scarves, berets, a pocket watch and jewelled brooches feature, too. He even regularly accessorises with a riff on a traditional Scottish fly plaid. This is typically excess tartan material from a kilt that is pinned over the left shoulder. For the unacquainted, Cumming has set the bar for what tourists expect to see when they step off the plane at Inverness airport.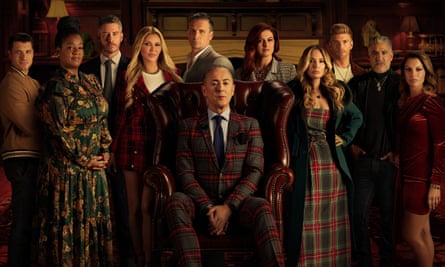 The premise for the show is simple – 20 contestants undertake a series of team challenges to earn money for a prize pot that will be split at the end of the game. The twist is that among the players are three "traitors", whose job is to murder one player each night. The others, dubbed "faithfuls", must try to identify who the traitors are. If a traitor makes it to the final, they scoop the whole prize fund.
As the show builds, so too does the tension and Cumming's outfits only add to the drama. And at times Cumming's wardrobe – which was created with an American stylist – seems to veer into Scottish cosplay.
So just how authentic is the tartan? "The majority is a modern fashion type," says Peter MacDonald, a tartan historian with more than 35 years of study, who analysed six of Cumming's outfits for the Guardian. "It's when a designer or clothesmaker makes up their own interpretation of tartan. It's very common nowadays."
In a promotional shot for the show, Cumming is pictured sitting on a leather Chesterfield chair in a red and green tartan suit surrounded by the contestants. MacDonald says the print is based on the Royal Stewart tartan. First referenced in 1850, it's the official tartan of the royal family. "There's a version of it called Grey Stewart. Here they've replaced the grey with red."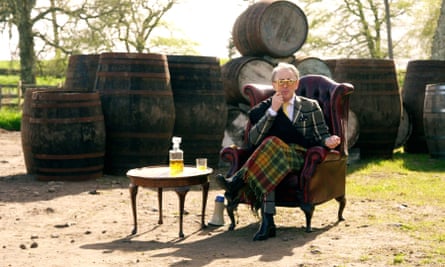 Another shot sees him wrapped in a multi-hued tartan blanket, which MacDonald describes as a contemporary take on a Buchanan. This tartan was first recorded on a highland revival-era cloak circa 1800.
Out of the six tartan looks, there is only one that MacDonald flags as authentic. It consists of a red, green and navy tartan blazer that he teams with a maroon velvet shirt. Fittingly called the Cumming tartan, it dates back to the 18th century. The actor previously wore the pattern in 2009 to collect his OBE award.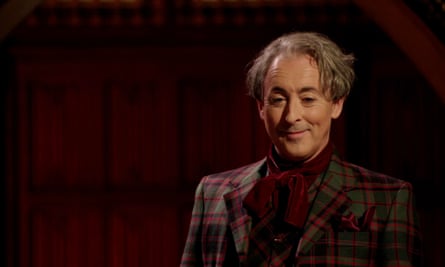 Cumming comes from Aberfeldy, in Highland Perthshire, west of Dundee. Was MacDonald surprised to see him wear so much non-authentic tartan? "Not at all. In some ways it makes more sense. If they had chosen a tartan not associated with his name, then people would have questioned that."
Historically, tartan patterns were linked to the weavers of a particular area. Nowadays, anyone can design their own tartan. There are even online programmes that let you mock up the colours, spools and thread counts from your smartphone.
For £70, anyone can also register a tartan once it meets the basic criteria set out in the 2008 Scottish Register of Tartans Act. MacDonald, who sits on the advisory board, says they get on average 10 new tartans a week.
In 2021, Cumming and Miriam Margolyes created a tartan to celebrate their Lost in Scotland TV tour. Dubbed Aliam, it's said to be a "weaving together of their names, which reflects the warp and weft of a tartan cloth".
Outside Scotland, Americans are the biggest creators of new tartans. Greys and greens, a "departure from the traditional tartan", are trending right now and names on the register span from individuals to large corporations, including Mercedes-Benz and Coca-Cola.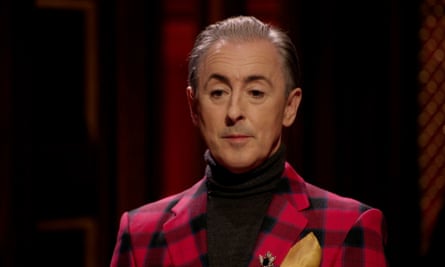 It's more complicated to copyright a tartan involving a series of rigorous technical and human audits. MacDonald, who helps a handful of clients each year design their own, has more than 11,500 copyrighted tartans on his personal database. "I'm doing something that is unique and pretty difficult," he says.
While the locations featured in The Traitors, including Andros Castle, are gearing up for heightened interest following the show, the textile industry in Scotland is already thriving. According to a report from Scottish Enterprise, the sector in 2021 employed 0.3% of the population and exported to more than 150 countries, contributing £360m to the economy.
Just don't expect to see any locals in a Cumming-inspired mismatched bright suit. "The fashion brands don't want us to look like we've walked off the hills," says MacDonald. "But for those of us who champion the traditional patterns, that's exactly what we want to ach
Copyright : https://news.google.com/__i/rss/rd/articles/CBMif2h0dHBzOi8vd3d3LnRoZWd1YXJkaWFuLmNvbS9mYXNoaW9uLzIwMjMvamFuLzI2L2NlbHRpYy1jb29sLW9yLXNjb3RzLWNvc3BsYXktYWxhbi1jdW1taW5ncy1zdHJvbmctbG9va3Mtb24tdXMtdHJhaXRvcnMtYXNzZXNzZWTSAX9odHRwczovL2FtcC50aGVndWFyZGlhbi5jb20vZmFzaGlvbi8yMDIzL2phbi8yNi9jZWx0aWMtY29vbC1vci1zY290cy1jb3NwbGF5LWFsYW4tY3VtbWluZ3Mtc3Ryb25nLWxvb2tzLW9uLXVzLXRyYWl0b3JzLWFzc2Vzc2Vk?oc=5