EXCLUSIVE: Meet Miss Benny, AKA Marco Mejia On Netflix' Glamorous
A star is born! Miss Benny is forming a sparkling constellation that shines bright on Netflix's hottest new series Glamorous. Breaking all the rules (and some hearts on her path to self discovery) Miss Benny's character Marco Mejia is boundary defying and instantly lovable from the moment she graces the screen. No wonder Kim Cattrall's character Madolyn Addison scoops Mejia from behind the cosmetic counter to under her wing at her luxury cosmetic company. Hijinks ensue, so fasten your seatbelt for a bumpy ride through the lipstick jungle on this binge-worthy series. We were lucky enough to rendezvous with our favorite new ingénue at Los Feliz hotspot Encanto where Miss Benny laid all her cards (and lip gloss) on the table in our exclusive Daily Front Row interview!
What do you think makes a great comedian?
Well, I think you have to be willing to look ugly and act stupid, and I am very familiar with both of those concepts! I feel with the show Glamorous, I am making fun of stereotypes and archetypes that I naturally fall into.
What comedians and performers inspire you?
I grew up watching shows like I Love Lucy with my parents, because I basically watched whatever they were watching. In my own time, I got really obsessed with Tina Fey in 30 Rock and thought she was just so talented. I remember being aware of how funny she was from a young age and I always identified with her. As a kid, I really looked up to all the girls on the Disney Channel—Selena Gomez, Demi Lovato, Miley Cyrus. They were all so funny and bubbly and loveable.
Tell us about how you formed your personal image and style.
I grew up going to thrift stores because we didn't have a lot of money. I got very familiar with having to search for things that I like, and that's something that I have carried with me through now. I feel like my time shopping at vintage stores helped form my personal style. Lately I have gravitated towards '90s mistress woman at the doorway!' I find a lot of that look in my adventures at vintage stores; lots of slip dresses and lingerie. Most of the time, my approach to style is looking like I just slipped something on and it accidentally became sexy.
How has your style evolved now that you work with a stylist?
It's changed a lot because I have always been such a thrifty bargain queen! I am brand new to understanding the vocabulary of the fashion world and so working with stylists, designers, and hair and makeup artists has opened my eyes to exciting and new possibilities. Sometimes you can get pieces that make you look like you never imagined you can look. I have put on things in fittings and was surprised and thought, 'I didn't know I could be this hot, or this cool.' I love it, it makes me excited to keep learning and continuing to develop my own sense of style.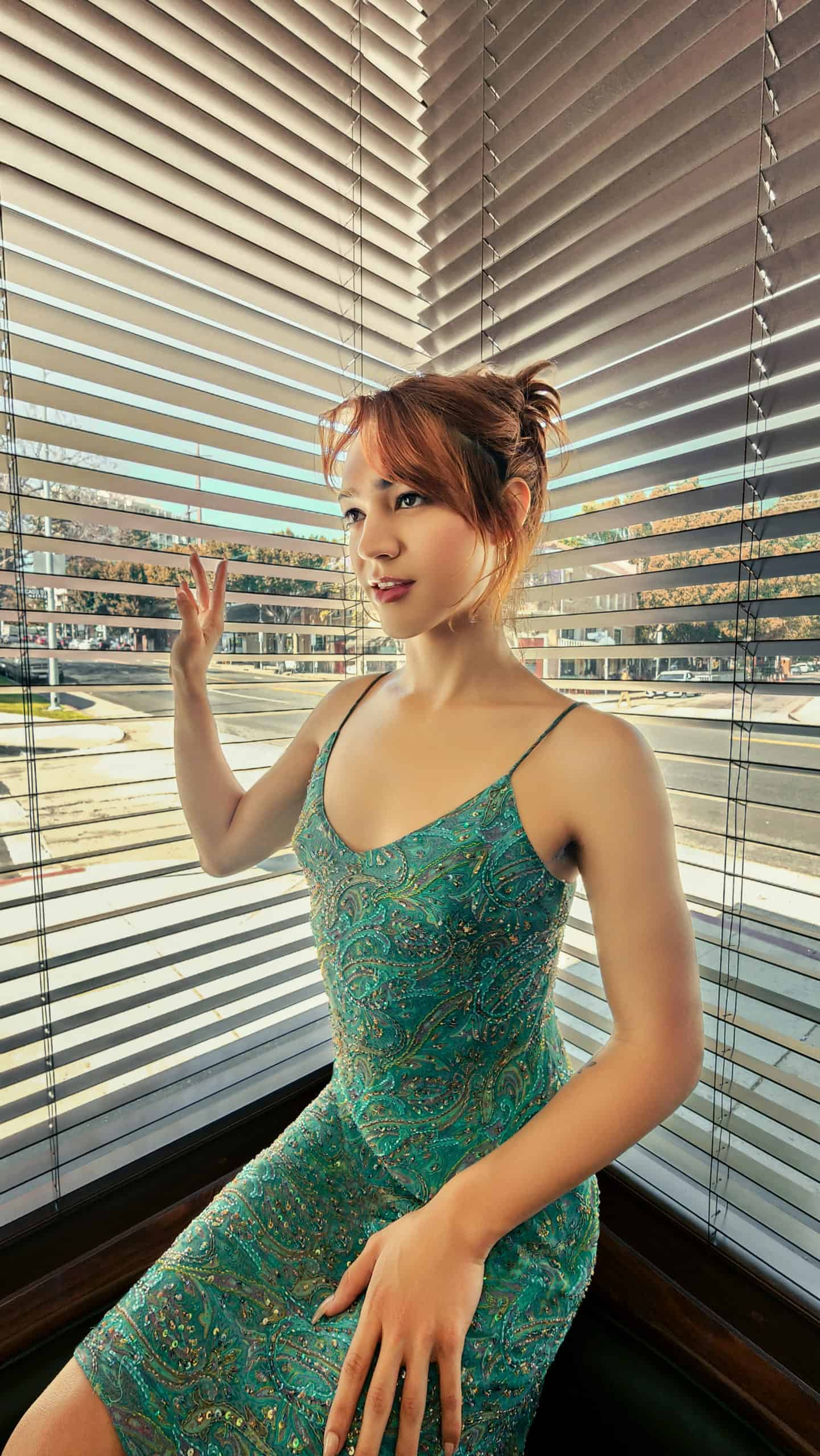 What inspires you?
Oh gosh, I find a lot of fun stuff on Instagram. I typically do this sort of Carrie Bradshaw approach to my wardrobe where it's something that's very classic and pretty with something weird. Usually I'll take just a classic slip dress, really sleek, and then add a brooch or some weird thing in my hair. I'm always trying to throw things a little bit off. I find that on Instagram you can just fall into a rabbit hole of people who have such great style and I have a burner account that I use to follow a bunch of inspiring people on. When I leave the house instead of taking one thing off, I usually tie 10 more things into my hair!
Who are your style icons?
My sister! She was a rock-a-billy pin up girl for a while and she's a burlesque dancer now. She was always my style icon. I remember seeing how she would put victory rolls into her hair and do sharp cat eyeliner and wear very tailored dresses. That informed my relationship with femininity, so I kind of find that no matter what I do, I always fall back into that a little bit.
Can you talk about growing up in Texas and how that influenced your formative years?
Wow! Texas played a huge role in the way that I approach everything. I grew up very sheltered, my parents were very religious, opposed to the secular world, and I was homeschooled. All of my creative references for myself were things that I discovered online. Being in Texas meant that I had to search for inspiration online because I couldn't really find it around me. I think if I had grown up in a big city and been around a lot of vibrance, I probably would have just looked around me. But I ended up finding inspiration online, on YouTube, and on social media. I am grateful for the melting pot of personalities I found online and still have those voices in my head to this day creatively influencing me.
You grew up in front of the camera on YouTube. Can you tell us about your relationship with the platform?
I started YouTube when I was like 11-years-old and I didn't really have an idea of my own identity or personality yet. It was really challenging to find my own identity and my own personality while also curating a version of myself that people would like. So I found myself in this tangled mess of what I like, and what my persona likes… I'm still finding out about all of that. What it did for me is take me places I never thought I would go to. YouTube took me to Australia, New Zealand, and all over the United States. I'm really grateful for the outcome that I had on these experiences, and it allowed me to explore many different directions until I decided which I actually like.
Did you have any mentors?
My oldest sister, as I mentioned, is a show girl. She's fabulous. No one in my family is particularly fashion forward except for her. When I first wanted to learn about makeup, I had to steal it from her, not my mom, because my mom didn't really wear makeup. She really was the first one who ever put me in anything fabulous. She used to play dress up with me and my brother. I was always jealous because my brother was older than me, and bigger than me, so he was able to wear the Cinderella dress and the beautiful sparkly shoes and I had to wear whatever else was around at the time, which was usually the Queen Amidala costume from Star Wars. It had this long red trench-like velvet cape with a hood and I wore crazy face paint. I felt like Linda Evangelista! That was sort of my segue into finding my own power and my own femininity. As an adult, I found my mentors in the queer community and I just feel so grateful to have really great people in my life.
When was your process like in developing Marco's character?
Marco was really fun for me to figure out because Marco and I have a lot of similar life moments. We both were on YouTube, we both grew up with very passionate, loving moms, and we both had big dreams and did not necessarily have the means to go after them. But Marco is a lot more of an outspoken, emotionally reactive person and I'm just shy and sweet, and a little more internal. It was kind of fun for me to look at characters like Carrie Bradshaw and so many other incredible leading women and include them in my role. Marco is sort of this heightened version of myself, using all of the references that I love.
How was working with you on screen family and the rest of the cast?
I love everybody that I worked with on the show, especially Deanna Maria Rivas who plays my mom Julia. She is incredible. We filmed our scenes first. It was so important because it allowed me to establish where Marco was coming from. It was really important for both of us, because I identified with Marco so much and she really identified with Julia. We really brought a lot of care into our preparation to make sure that relationship was really authentic. I think it was really healing, I feel a lot of queer people love to see a relationship on a show that explores a parent unapologetically showing up for their child. Marco's queerness is never a point of contention or a conversation. Once I got to the office and began interacting with Madolyn (Kim Cattrall), I was able to know where I'm coming from and felt completely grounded in my character for that relationship.
Tell us about working with Kim!
It was a mind trip! I mean I had idolized her so much as Samantha Jones and when you meet somebody who you know so well as a character, I didn't know how much of Samantha's character is a part of real life Kim. Obviously we all want to go up to Kim Cattrall and banter with her and say witty one-liners, but I had heard how she's felt about that experience and how she's encapsulated that experience, so initially I was really cautious. It was really great to watch her do her thing and to see us on screen together was really trippy for me because I had just watched all of Sex in the City leading up to filming. I just kept thinking I can't believe I'm am working with this person and getting to see her deliver some of those one-liners in person in the flesh. It was just crazy!!
What are the pros and cons of your platform as a gender queer performer?
The pros are that things are changing really quickly. I think the way that it felt to be a public gender-queer person 5 years ago and now is very different. I feel like there's a lot more space and a lot more celebration of people like me now and I feel very powerful. When I look like the way I look now, I just feel like a superhero. I feel very comfortable in my skin and I feel like that's a benefit of the time and my experience. The cons are that I sometimes get nervous about what people will think, and what the opposition will be. But as you know, I grew up in Texas. Texas is a hard place to be queer, especially right now. I was pretty conditioned to be tough and stand firm in my identity and I'm ready for it now!
How do you look out for the queer community and use your platform?
I'm always thinking about what I can be doing for queer people who are in Texas or in Nashville or somewhere similar to where I grew up. I think about when I was a kid and how just seeing a queer person who was happy was so impactful, because all I knew was what was around me and it was really hard. Advocating for those facing opposition, and also always trying to stay really mindful of making sure the way that I portray myself will encourage people in those situations, is something that is important to me.
What next for you?
Right now, I've been dreaming about doing some sort of high-camp film in the vein of Drop Dead Gorgeous. Something just super silly. I feel like I've gotten to stretch those muscles a lot with shows like Glamorous and American Horror Story. A full project where everybody's on the same page and we all get to be as goofy and as irreverent as possible—that's something that I think about every day now and I'm looking for those opportunities!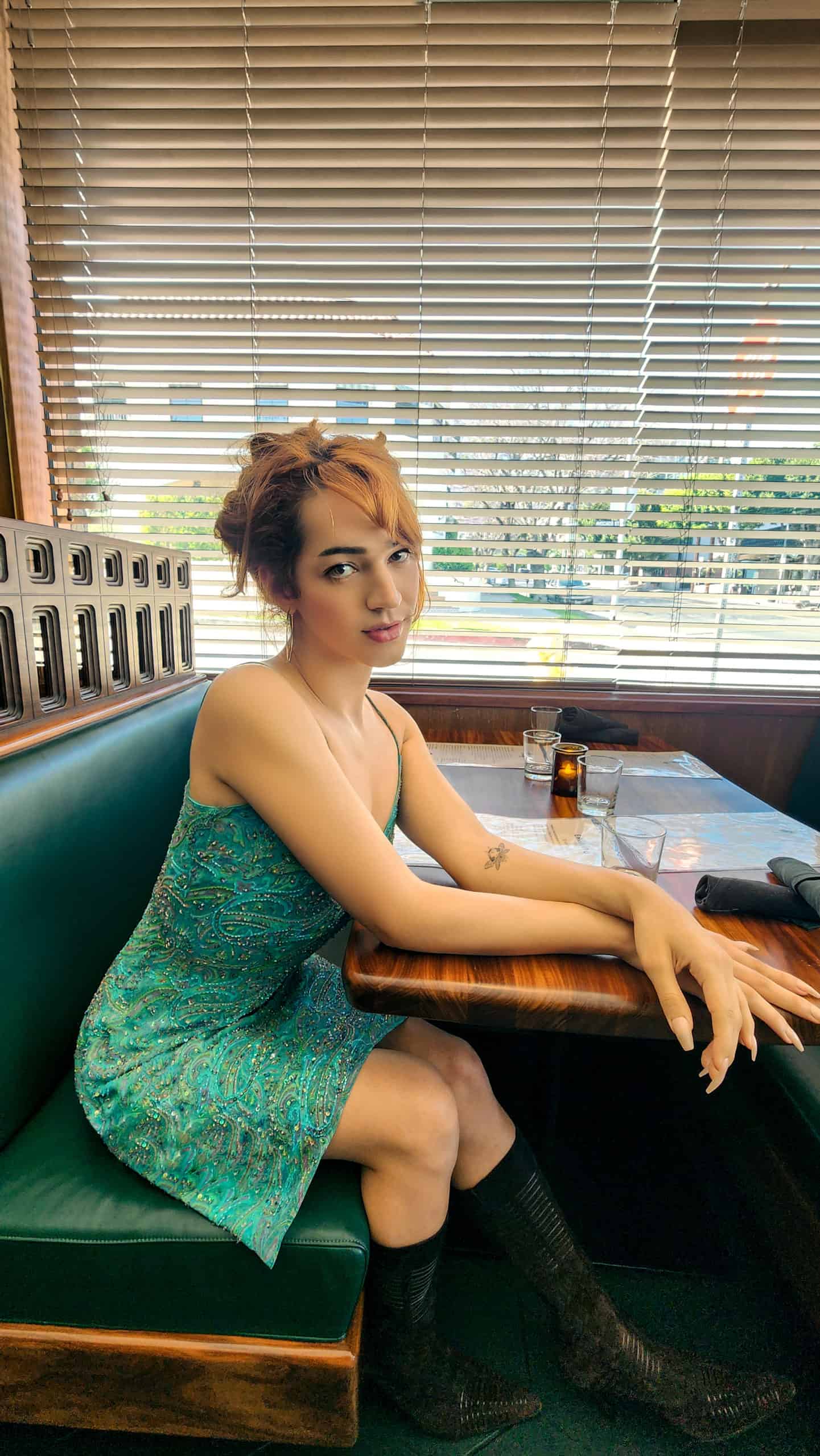 What's in your purse?
Tiger Balm, nail glue, Chanel Rouge Coco Flash Lip Gloss (Color Flânerie 172), my wallet (a vintage cigarette case that has naked girls on it), and gum that I got at the Netflix premiere of Glamorous.
What do you do in your downtime?
I throw a very tiny tennis ball to my mini poodle named Petite and play a video game named Runescape.
Favorite restaurant?
Mel's Diner for blind dates, and Pine and Crane in Silver Lake.
Special dish you make for loved ones?
I don't cook, but I love when someone cooks Lazy Princess Pea Pasta!
Party trick?
Back in the day, I would kiss as many boys in one night as possible but these days going to bed at 9PM sounds way more appealing!
What's you vice?
Diet Coke.
Biggest dream?
To continue being happy as I am today, the day Glamorous came out!
Images: Brian Wolk 
Subscribe to our newsletter and follow us on Facebook and Instagram to stay up to date on all the latest fashion news and juicy industry gossip.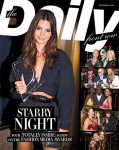 Seating you front row, taking you backstage & catapulting you into the world of fashion. Stalk us on twitter @DailyFrontRow, follow us at FashionWeekDaily.com and always be seated front row.
Read more:
EXCLUSIVE: Meet Miss Benny, AKA Marco Mejia On Netflix' Glamorous