The Daily Summer's July Issue Lands Today!!!!
Joyful July is almost here darlings—which means a brand new issue of the Daily Summer has arrived.
In this fashion-filled issue fronted by actress Lily-Rose Depp, we caught up with costume designer Natasha Newman-Thomas, whose behind Depp's wardrobing for The Idol, to hear about her behind the scenes process…and what she *really* thinks of the year's most talked-about show.
Plus! Drumroll please! We charted the who's who on the scene Out East with our annual Hamptons Most Stylish list—all of whom we'll fête at a chic garden party later this season. Elsewhere in the issue, we caught up with Gerard Maione and Seth Weisser of vintage luxury purveyors What Goes Around Comes Around to hear about their plans now that the company has turned 30! We got a preview of what's on offer this month at the Christian Louboutin store in Southampton, delved into Max Mara's recent Resort outing in Sweden, and got the scoop on what brands are popping up this month on the East End.
All that, as well as trend-inspired fashion stories—from mermaidcore to Barbie mania-approved— décor musts from abc Carpet & Home, jewelry essentials from LAGOS, and catchups with our favorite businesses in the Hamptons.
Find your copy at the usual distribution points throughout the Hamptons from today, or get into it below:
Subscribe to our newsletter and follow us on Facebook and Instagram to stay up to date on all the latest fashion news and juicy industry gossip.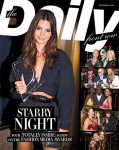 Seating you front row, taking you backstage & catapulting you into the world of fashion. Stalk us on twitter @DailyFrontRow, follow us at FashionWeekDaily.com and always be seated front row.