A Gorgeous Gathering Chez Lela Rose, Mytheresa x Flamingo Estate Party Out East, Thom Browne Reacts To Chanel Rumors, Plus! Rosé Cupcakes!!!
Lela Rose fêted her Resort 2024 collection with co-host Quentin Jones
Fashion-favorite and mixed-media artist Quentin Jones welcomed style mavens to the Soho apartment of designer Lela Rose this week to raise a glass to the designer's newest offering. Guests marveled at the beautiful digs, designed by Amale Andraos and Dan Wood of Work Architecture, not least when custom dining tables dramatically dropped down from the ceiling and rose from the floor—that's one way to maximize space in your NYC home! All around the room, you could spot Lela Rose's signature elegant cocktail attire—and those signature design elements inspired memorable vignettes, like Jones' custom place cards, mixologist Victoria Rivera's cocktails, and frozen confectionery from Nueva Yolk and Lokum Little Balkan. The dinner menu was the work of plant-based chef Tara Thomas, who sourced seasonal fare through Farm To People. The evening welcomed Cara Buono, Palak Gupta, Kimberly Drew, Alana Zimmer, Brianna Lance, Bruna Tenorio, Eniko Mihalik, Rai Leme, Caitlin Burke, Sarah Clary, Chelsea Leyland, Mei Kwok, Noot Seear, Destinee Ross-Sutton, Isolde Brielmaier, Lara A. Björk, Ruby Kean, Sarah Hoover, and Charlotte Groeneveld, among others.
Images: Zev Starr-Tambor
Mytheresa & Flamingo Estate present: The Summer Body Shop
Mytheresa and LA's Flamingo Estate have come together to host an experiential shopping destination with a difference—introducing the 'inconvenience store,' which has transformed a disused gas station in East Hampton into the luxury, fashion-filled Kwik-E-Mart of your dreams for the next five weeks. Last night, both brands hosted a cocktail party to unveil their labor of love, located at 9 Railroad Avenue. Their Summer Body Shop, open daily from 11AM-6PM, will be home to exclusive items from the likes of Dolce & Gabbana, Versace, Totême and Zimmerman, while Flamingo Estate have also brought their curated CSA program to the East Coast for the first time, working with Norwich Meadows Farm and Frenchette Bakery to present a wide range of non-perishable products and tasty pantry items. Among those who descended on the venue to get a first glimpse were Martha Stewart, Bobbi Brown, Richard Christiansen, Heather Kaminetsky, Aaron Alexander, Billy Cotton, Brendan Fallis, Hannah Bronfman, Candace Bushnell, Charlotte Groeneveld, Jenné Lombardo, Maria Dueñas Jacobs, Sarah Hoover, Zach Weiss, Jason Weinberg, Noora Raj Brown, and Mayor of East Hampton, Jerry Larsen, and many more. Happy shopping!
Images: BFA
Thom Browne readies for Couture debut, comments on those Chanel rumors
In a new sit down, Thom Browne made clear that he's happy focusing on his namesake brand—putting to bed rumors that he could take the helm at Chanel. Browne told Booth Moore that his upcoming Couture debut is not an audition for the Chanel job. "No, Virginie [Viard] is doing a great job and I'm just doing my thing at Thom Browne," he said. "I'm very interested in being at Thom Browne. I really think the focus, especially in my position [as chairman at the] CFDA, is nurturing the next generation of new houses and new collections. One of the most important things for me in showing during couture is to show there are new collections worthy of being the next generation." Browne also tipped his hat to Pharrell. "I start from craft and creativity, and I think Pharrell has an amazing voice….Everybody has to approach it their own way. The choice of Pharrell was great in that he has ideas and a sense of himself. That's a good place to start," he said.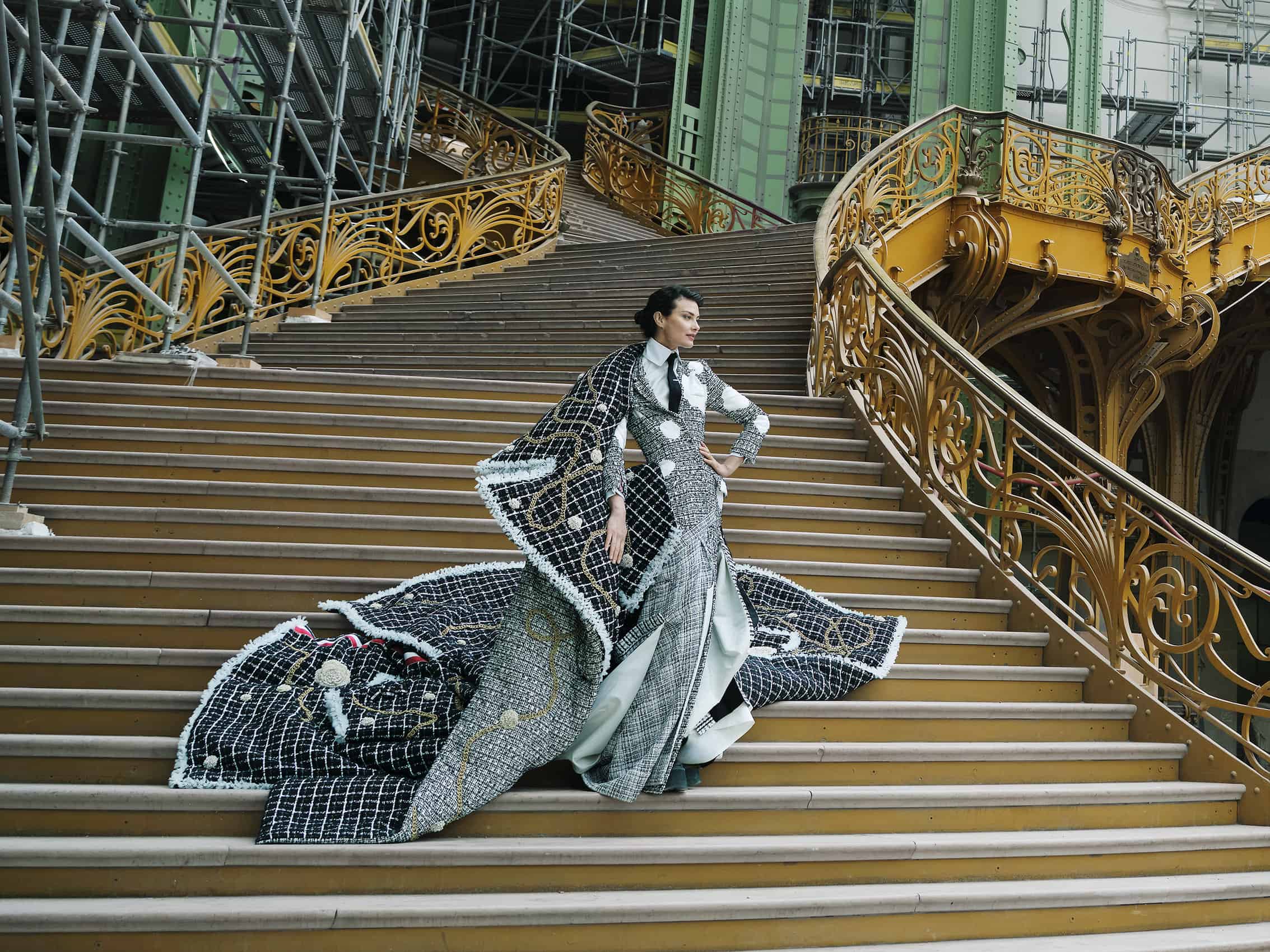 Hampton Water teams up with Sprinkles
How do you say quintessential summer snack in two words? Rosé! Cupcakes! Jon Bon Jovi, son Jesse Bongiovi's beloved wine brand Hampton Water has partnered with bakery mainstay Sprinkles and and renowned winemaker Gérard Bertrand on a Hampton Water Rosé cupcake, launching today. The sweet treat is a Hampton Water Rosé-infused cake, filled with a delicious jam core and topped with decadent frosting to bring out the fruit-forward strawberry and bright citrus flavors of the wine. The special cupcake is only available through July 16, so don't delay—find it online and in select bakeries nationwide now… see you at the famous Sprinkles Cupcake ATM!
Subscribe to our newsletter and follow us on Facebook and Instagram to stay up to date on all the latest fashion news and juicy industry gossip.
Freya Drohan is The Daily's fashion director; overseeing digital industry and news coverage, as well as luxury fashion market content for the various print editions. Follow her on Instagram and Twitter @freyadro
Continue Original Post here:
A Gorgeous Gathering Chez Lela Rose, Mytheresa x Flamingo Estate Party Out East, Thom Browne Reacts To Chanel Rumors, Plus! Rosé Cupcakes!!!