Inside Lily-Rose Depp's 'The Idol' Looks
Love it or hate it, everyone is talking about this Summer's buzziest and most controversial show, The Idol. Starring Lily-Rose Depp and Abel Tesfaye aka The Weeknd, the show looks at the darker side of Hollywood through the eyes of Sam Levinson. The Daily Summer recently talked to the series costume designer, Natasha Newman-Thomas, to get the scoop on how she created the looks
Fashion plays a role in every show. What did the clothes add to this story?
From a sociological perspective clothes tell so much on an instant read about any person in real life or in fiction. We wanted to embrace that concept by using the clothes to help develop the characters and figure out what we wanted to say with each character and how to say it with the clothes.
How involved was Lily in the creative process when it comes to her wardrobe?
Lily is amazing. She comes from a family of fashion royalty and has a wealth of knowledge of designers and vintage. It's really beautiful and rare to collaborate with someone who understands the references that I'm bringing to the table. It's a collaboration with all of the actors but it was a heightened experience with Lily because she knows so much.
What was your initial meeting like?
We started with a marathon fitting trying on so many different looks to try to work out the character together in real time. We didn't have all the scripts at that point. We wanted to create a closet and a vibe for the character. She came in and we did a 6 hour fitting to find out what's working and what isn't and for me to get to know her body and all the ins and outs. It was a great day for us to get on the same page with everything. We were pretty much on the same page from the jump.
The show is very sexual. How did you use her costumes to express her sexuality?
She makes it easy! She makes things sexy. That's part of the character. Some things are easier to lean into than others. An old t-shirt can be sexy with the right attitude.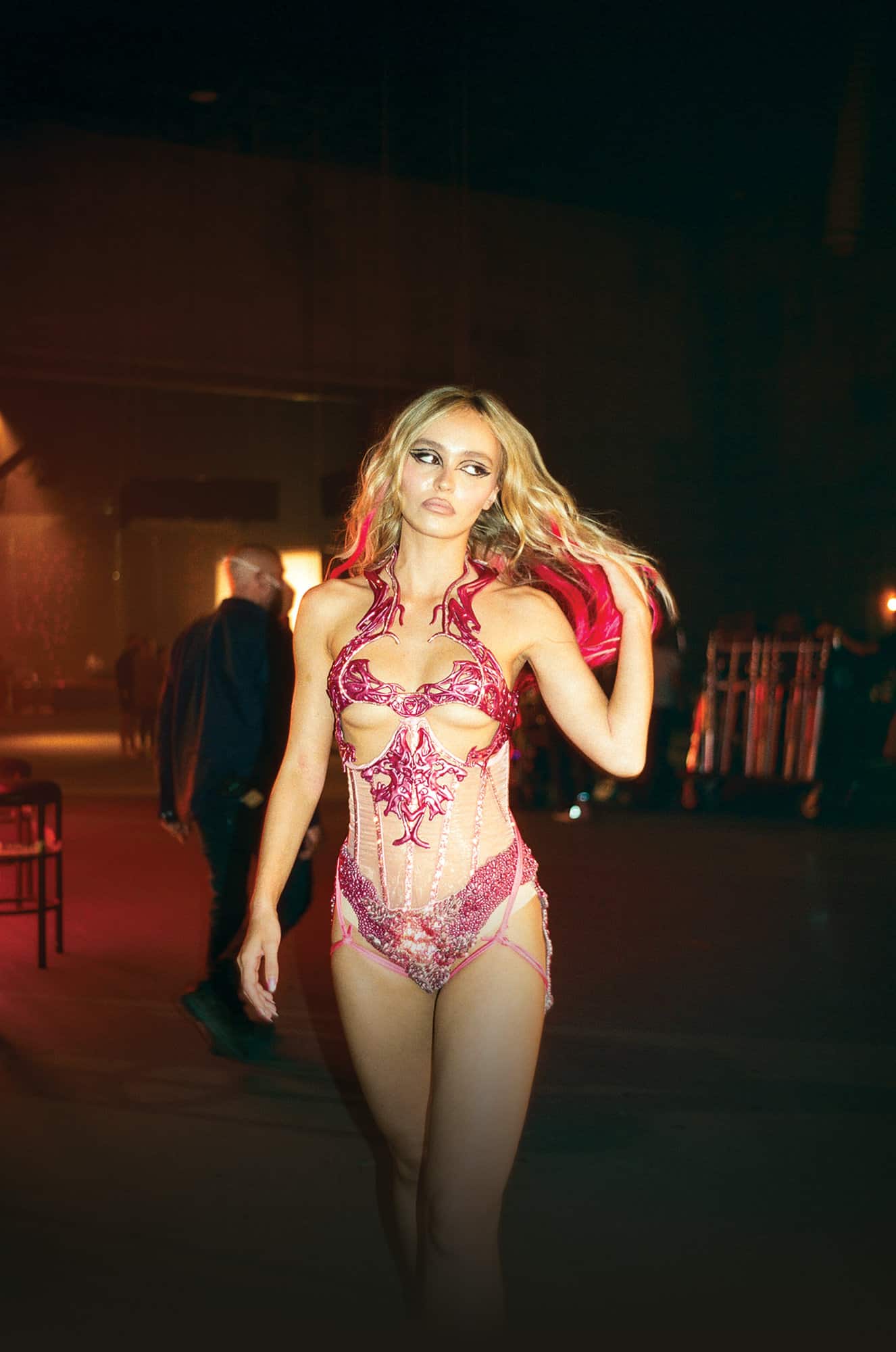 What other designers did you put her in?
We used a lot of vintage and some contemporary designers. I love vintage Gautier a lot. There's an iconic moment of her in a Margiela gown. She wore a lot of Jimmy Choo shoes, vintage Balenciaga shoes. The full spectrum!
The character is a pop star. What were your inspirations?
We had boards that I made that I distributed to everyone in the wardrobe department. I had the Madonna Sex book on my desk if anyone wanted to take a look and get inspired. I asked everyone to watch the Thierry Mugler 94 Fall/Winter runway show where James Brown comes out at the end. Every look that comes out is more iconic than the last. We wanted to show that once you come up with an amazing look, you can still come up with something more amazing. We wanted to bring that energy to the character.
The minute Abel [Tesfaye] appears you get an idea of who this guy is because of his costume. What were you going for with his look?
Like Lily we wanted to create a totally unique character that isn't completely referential. I like the way Mickey Rourke's style has an unwavering confidence about it.  He wore a lot of vintage. We brought some designer elements like a Gucci belt. He wore Saint Laurent trousers. Saint Laurent feels vintage so they brand really nicely with what we were bringing to the table.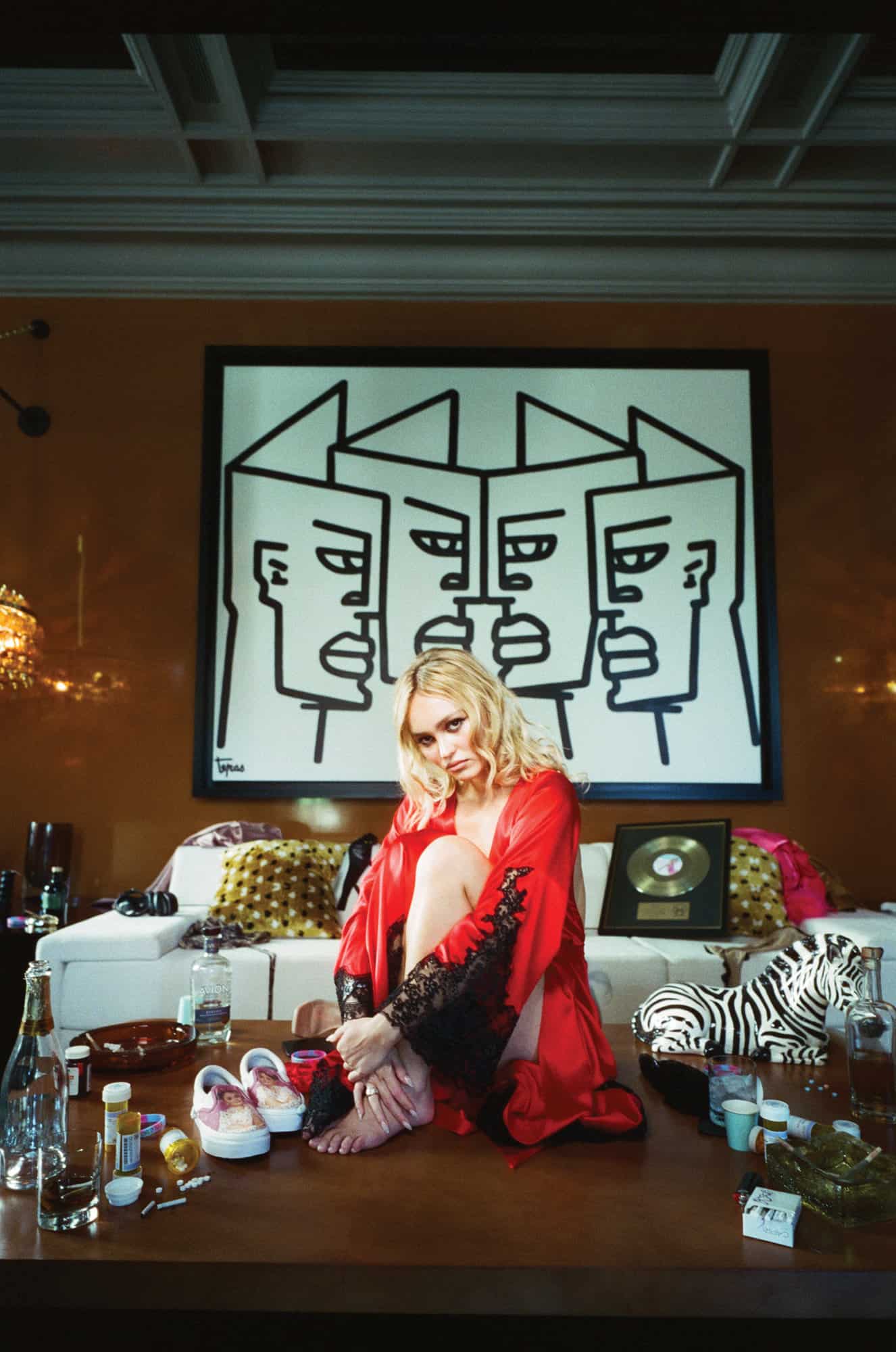 Let's talk about the supporting actors. The show has Dan Levy, Jane Adams, Hank Azaria… What actor was most involved when it came to creating their character's look?
Everyone was so lovely to work with. Jane Adams is such a legendary actor and gets so deep into the character that she and I had constant texting about the looks. She had great ideas. I expressed this to the actors that they could contact me at any time if they had ideas and she definitely took that to heart. If she had a moment of inspiration in the middle of the night, she'd shoot me a text about it and I'd wake up and we'd end up riffing. That was a real treat to get to work with someone who was thinking about the wardrobe as an extension of the character and was so committed to it.
Where did you shop for these characters?
For this show it was H.Lorenzo, Dover Street Market, but I also have my favorite vintage shops like Scout, Aralda Vintage, and Replica, which is an appointment only store. The owner is an absolute fashion encyclopedia. John Galliano shops there as inspiration for his Margiela collections.
There's a lot of controversy around the show. Did you realize it was going to be controversial when you were shooting it?
Everyone on set knew we were making something unique and special and that usually comes with controversy!
Subscribe to our newsletter and follow us on Facebook and Instagram to stay up to date on all the latest fashion news and juicy industry gossip.
Read more:
Inside Lily-Rose Depp's 'The Idol' Looks