Hoppy feet: the nostalgic return of frog-faced wellies – The Guardian
What has two eyes, green skin, and kept your feet dry when you were a child? Anyone born in the 1980s will recall that whenever the heavens opened, off came the Dunlops and out came a pair of anthropomorphised, amphibious wellington boots. Now, almost forty years later, they're back.
Made by Wellipets, a British brand that launched in 1983 and until recently had closed down, this month they were the talk of Milan fashion week when models in the JW Anderson show glided down the catwalk in shrunken pants, leather trenches and frog-faced mules made by the Wellipets team in Milan. The "crogs" – as one fashion insider called them – came in blue, yellow or traditional batrachian green.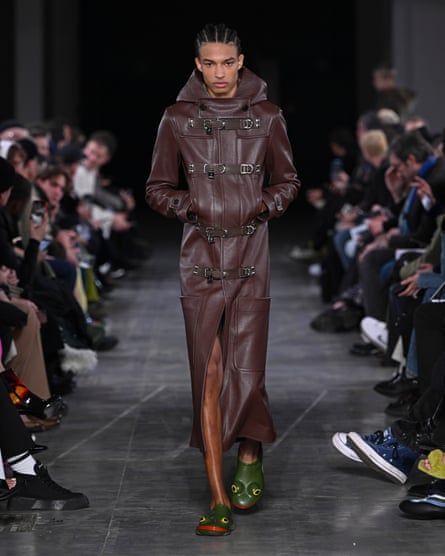 According to a spokesperson for Wellipets, Anderson approached them in the summer, with the brand giving the Northern Irish designer "full creative freedom", they said. "Nostalgia and the recognisability of our wellingtons are a part [of their revival] but even if you haven't worn them before, they still evoke a rare feeling".
The designer said he owned a pair of wellies as a child. Motivated too by nostalgia, the boots tapped into his "homely and childhood memories", he said in a statement. The amphibian-styled clogs also felt like a good fit in a show that challenged gender norms. As any amateur biologist will know, frogs can be intersex.
Also fond of the original frog boots in their childhood were princes Harry and William, AKA the heir and the spare, who in the late 1980s were regularly pictured in the tabloids wearing them at polo matches. Wellipets declined to wade into the royal fray surrounding Harry's recent memoir, though Anderson referred to this era as "better times" for the princes in a conversation with i-D magazine.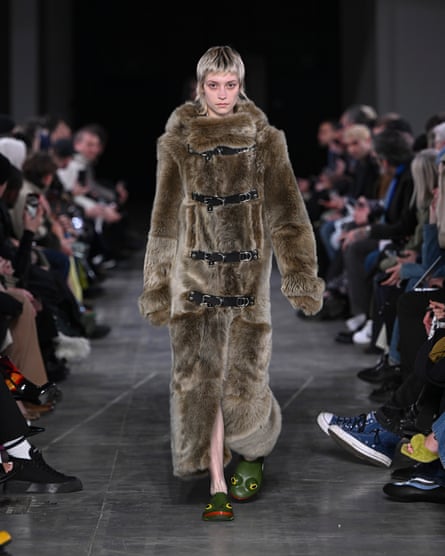 Anderson, who oversees his namesake brand as well as Loewe, has become a dab hand at turning daft jokes into high fashion. Over the past few seasons, he has provided Carrie Bradshaw with a pigeon clutch bag made from resin, covered shoes with deflated red balloons from a children's party and turned a colourful cardigan worn by Harry Styles into a knitting sensation on TikTok.
Despite best efforts by more formal designers, comfortable lace-free shoes were everywhere in Milan, as well as the catwalk. From platform Uggs to clog-type shoes at Charles Jeffrey Loverboy and Crocs and socks on the front row. According to a report by The Sole Supplier, Crocs saw a 121% increase in searches on Google Trends this year alone, while Uggs have seen the biggest increased in sales (figures will be released in the spring) despite increasing their prices to match.
While the frog boots are only available in children's sizes, the website suggests sizes 4-8 will hit shelves in the spring, with a men's range to follow. For those hoping to get a head start, there are several "rare vintage Wellipets" going on eBay for about £50 a pair.
Copyright : https://news.google.com/__i/rss/rd/articles/CBMiZWh0dHBzOi8vd3d3LnRoZWd1YXJkaWFuLmNvbS9mYXNoaW9uLzIwMjMvamFuLzE4L2hvcHB5LWZlZXQtdGhlLW5vc3RhbGdpYy1yZXR1cm4tb2YtZnJvZy1mYWNlZC13ZWxsaWVz0gFlaHR0cHM6Ly9hbXAudGhlZ3VhcmRpYW4uY29tL2Zhc2hpb24vMjAyMy9qYW4vMTgvaG9wcHktZmVldC10aGUtbm9zdGFsZ2ljLXJldHVybi1vZi1mcm9nLWZhY2VkLXdlbGxpZXM?oc=5