Exclusive: Couturier Dhruv Kapoor on his victory lap at the Milan Fashion Week – Lifestyle Asia India
Dhruv Kapoor's Godzilla-inspired showcase at the Paris Haute Couture Week was an ultimate head-turner taking the Indian fashion scene a step closure to global domination.
There is no doubt in the fact that Indian couturiers are headed toward global domination, and names like Dhruv Kapoor are making a mark for themselves one exquisite collection at a time. Speaking of which, the year began with a bang, courtesy of the Milan Fashion Week showcasing some of the most eye-catching collections by celebrated couturiers and Dhruv Kapoor made sure to shine out bright amidst all the others. From maximalism, and aesthetic pieces to sharp tailoring all of this is synonymous with Kapoor's splendid style sensibilities. And keeping his dapper vibe in check and his signature staples in mind, Dhruv Kapoor launched his fall/winter 2023 showcase in the fashion capital of the world, aka Milan. 
Inspired by the popular movie franchise 'Godzilla' Kapoor's latest collection 'The Embracer' is here to drop some striking silhouettes and abstract patterns to our fall closets. Revolving around the concept of alter egos, Kapoor sure knows how to turn rugged denim and mesh silhouettes into style statements. And to further elaborate on his inspiration and experience at the Milan Fashion Week, we have the man himself talking about the exposure, the inspiration, and the highlights of this year's show.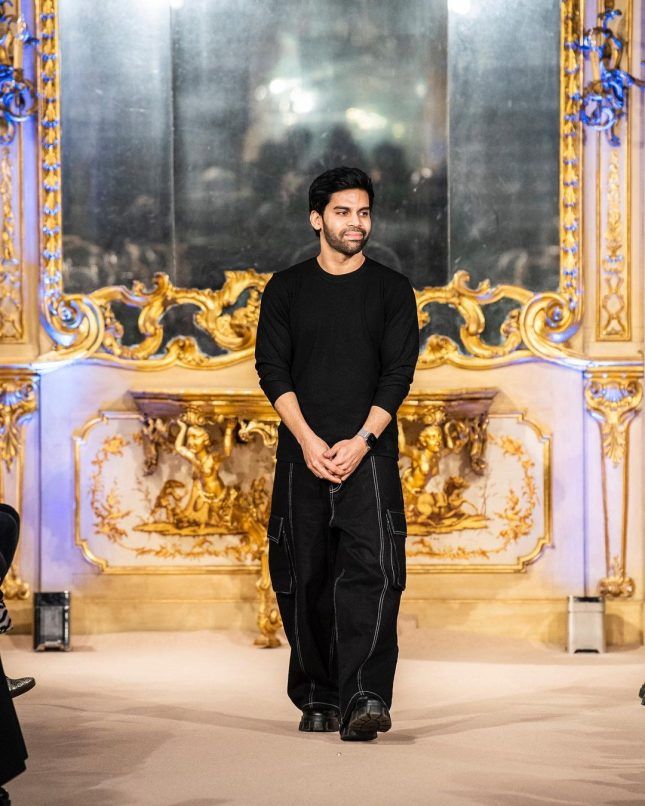 Dhruv Kapoor talks about his inspiration and experience at the Milan Fashion Week 2023
What was the inspiration behind "The Embracer" and how did it happen?

You can be soft and fierce; vulnerable and strong. You can be an amalgamation of the traditional and contemporary; a romantic and realist. Your obedience can be met with rebellion and your femininity with fire. We live in a universe of different perceptions where paradoxes can be full of possibilities.
The Embracer reminds us to nurture our individuality and inner self with unconditional love. It shines the spotlight on our positive traits and leaves behind negative connotations that come with our alter-egos. It gives birth to a new alternate self—one that's capable of advanced habits, skills, processes, and abilities. It projects alchemy to be the result of changing frequencies, thoughts, and perceptions, thereby altering the harmonics of matter and applying love to create a desired outcome. Since there are many Indian couturiers who're representing their brands at a global level now, so what do you feel about this exposure? 

For us, the exposure is unmatched. A global platform like Milan offers immense exposure to our brand. Over time we have built a strong network of buyers, journalists, and clients that help us grow season after season.
What was the best part/highlight of this year's show?
Every subsequent season gets better than the one before. We had the opportunity to work with skilled mindsets and deliver a great show. It was fascinating for me to interact with the global press, influencers, and especially Anna Dello Russo, who has been a favorite for the longest time.
What are your personal favourite pieces from this collection?
I am in love with all the denim pieces and our special collaboration with Godzilla. Nearly two third of your collection is upcycled. How challenging is it to use old/used textiles in your new collection/ designs?

Once we put our minds to it, it is not that challenging a process. It is an integral part of our design process. Each season we start with discarded textiles with the aim to rewire desire into them through surface, print, and texture. It is a fun process to build desire into material that was discarded as surplus by manufacturers. We are now building a special capsule with the leftover prints from the brand, converting them into a one-of-a-kind limited-edition capsule.
How do you bring self-expression and individuality into your designs? Where does that inspiration come from? 

The process is completely organic. We mostly react to floating ideologies through our seasonal collections. The concept builds over time and it's mostly an intangible subject that is later translated through colour, print, and shape. I prefer to focus on the mood or the feeling an outfit would generate. It's the intangible that attracts our attention- where the "Feel good" factor is key. We aim to heal, empower and restore our audiences through our seasonal collections. What are your plans for the label Dhruv Kapoor in the future, what's the next step?
It is essential for us to approach the brand values from a 360-degree perspective. We are looking at multiple collaborations in the coming year with like-minded individuals or companies along with specially curated pop-ups that sprout around the world.
Hero Image: Courtesy Dhruvkapoor/IG Featured Image: Courtesy Milanfashionweek/IG
Copyright : https://news.google.com/__i/rss/rd/articles/CBMiPWh0dHBzOi8vd3d3LmxpZmVzdHlsZWFzaWEuY29tL2luZC9zdHlsZS9mYXNoaW9uL2RocnV2LWthcG9vci_SAUFodHRwczovL3d3dy5saWZlc3R5bGVhc2lhLmNvbS9pbmQvc3R5bGUvZmFzaGlvbi9kaHJ1di1rYXBvb3IvYW1wLw?oc=5